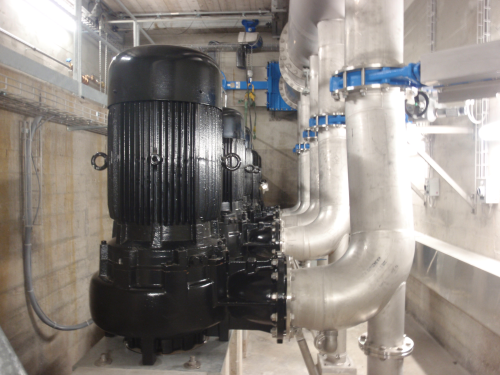 These pumps are the most able in dry chamber applications to handle fluids with high percentage of sand and other solids.
The big dimensions related to the higher flow rates and, consequently, the higher motor powers have not prevented to maintain the compactness feature of these pumps, strength of this series. The construction is even more compact and the monobloc pump has the impeller keyed directly to the motor shaft.
All the acquired experience and the technology belonging to series have been transferred to this line: no more down times or costly maintenance works thanks to the non-clogging hydraulic part and widely sized free passages even with channel impellers.
Non-stop pump
What is CAPRARI non-stop pump? It's a pump with efficient systems such as:
No-jamming system on the suction side
Fiber-cutting system on back impeller side and consequent protection of the mechanical seal
Blade system on the hub disc, which performs a double effect: cleaning of the area for mechanical seal protection and axial thrust balancing for bearings protection.
Furthermore Caprari has introduced an hydrodynamic guiding system on the suction side clearance for channel hydraulics only. This, together with the dynamic balancing systems of the rotating components, ensures constant and good lubrication between wear ring and impeller, which is consequently better guided.
This system also protects shaft and bearings from radial stress.For this range extension, given the powers involved, Caprari proposes surface motors in real IE3 efficiency class.