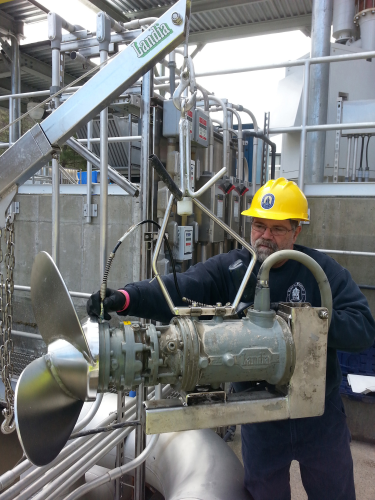 Serving over 11,000 residents, the facility at Stafford underwent an upgrade in January 2011, when six 1.8 hp Landia mixers were installed in the anoxic tanks as part of a new activated sludge process. Three 2.4 hp Axial flow pumps, designed and manufactured by Landia, were also introduced for the aeration basins, from where they return nitrified mixed liquor back to the anoxic tanks for denitrification. 
In an effort to improve their maintenance program and equipment service life, plant personnel at Stafford contacted Landia for assistance. WPCF Chief Operator Rick Hartenstein, commented: "When we made Landia aware of our need to reduce maintenance costs, they responded in a very timely manner.
Skilled engineers
Some companies are only interested in helping when they have secured a service contract, but Landia sent one of their skilled engineers to show our maintenance staff how to best look after the pumps and mixers for our benefit, which in turn means we provide a better service to the people of Stafford. Since then, we've become more efficient, had no downtime, saved money and had no hassle. It is refreshing to work with a company who has such high standards for customer care".
Kenneth E. Jacobs Jr., the Landia Service Manager who visited the WPCF continued: "It was a pleasure working with the team at Stafford. We looked at best practice servicing methods, including mechanical seals, electrical testing, oil changes and replacement of oil sealing rings to enhance the performance and longevity of the pumps and mixers at the facility".
River discharge
Treated wastewater from Stafford WPCF is discharged into the Willimantic River. The collection system, which has over 2,000 hook-ups, encompasses approximately 22 miles of the town and utilizes four pumping stations. Covering 58 square miles, Stafford is the third largest town (land area) in Connecticut.
In addition to the equipment at Stafford WPCF, Landia has well over 2,000 pumps and mixers installed in activated sludge processes across the U.S., many of which have been in continuous operation for more than 20 years.