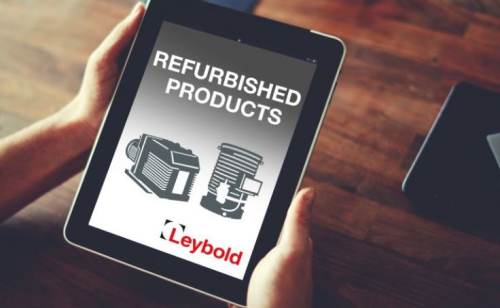 The new Leybold online shop makes it even easier for customers to select and order from the range of vacuum technology products.
Refurbished products are also on sale, with more than 700 items available. Each of these products is checked in a Leybold Service Center before the sale, overhauled and provided with a standard 12 month warranty.
Visitors to the www.leyboldproducts.com website can now search for a pump using the 'Pumpfinder'. The regulator can be set to the required operating pressure of the application, and the necessary pumping speed of the vacuum pump can be selected via an intuitively operated scale. The 'Pumpfinder' automatically identifies the appropriate product category with a green marking, generating a list of suitable vacuum pumps.
"In the rapidly changing world of online sales in the B2B business, Leybold is also setting standards in the vacuum sector, as the unique Pumpfinder shows. Our mission is to provide our customers with all the services related to vacuum; we pay attention to sustainable solutions which optimize operating costs," said Steffen Saur, chief marketing officer at Leybold.
The eShop is accessible to everyone but prices are only seen by registered users. A request or order can be generated only after registration. The shop offers a number of payment options including regular invoice and credit card.
The new shop is available in seven languages in many countries in Europe, Asia and North America via the company's website www.leybold.com.