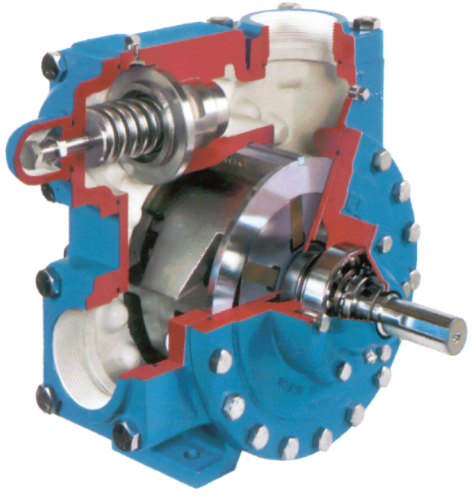 The pump heads of the Model SGLD4B 4-inch sliding vane pumps from Blackmer now feature 14 bolts instead of 18 bolts and the jackscrew hole size has been increased from 3/8 in to ½ in. The head bolts are now used to remove the head instead of the bearing cover bolts. The casing has been changed to a 14-bolt circle instead of the previous 18-bolt style, while the capscrew size remains the same. The pushrods have been changed to larger diameter non-metallic pushrods, and the rotor and shaft have larger diameter pushrod holes to accommodate the larger pushrods.
The SGLD4B sliding vane pumps are made of shock-resistant ductile iron and available with a variety of seal materials. The sliding vanes self-adjust as they wear, maintaining the operational efficiency of the pump. The vanes, liner and end discs can all be replaced, offering the ability to bring the pump back to like-new specifications.
The Model SGLD4B 4-inch sliding vane pumps from Blackmer are suitable for the liquid transfer and recirculation of refrigerants and other liquefied gases.