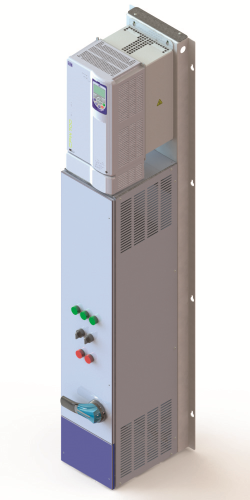 WEG has enhanced the functionality of the CFW701 frequency inverter for heating, ventilation and air conditioning (HVAC) applications with the addition of a manual/automatic override.
An integrated motor protection switch gives the new system, consisting of a cabinet unit fitted with a CFW701 frequency inverter, redundant motor protection for consistently reliable operation. In case of a frequency inverter defect or outage, the output relay of the CFW701 connects the motor directly to the mains through an external bypass circuit. A switch on the front of the cabinet unit allows the user to configure the bypass function for either manual or automatic switching to bypass mode in the event of a fault.
This stand-alone system is primarily suitable for the reliable and energy-efficient control of induction motors, used to drive pumps or fans in HVAC installations in hospitals, airports, office buildings, hotels, shopping centres or other facilities.
Integrated maintenance
The CFW701 is equipped with an integrated maintenance switch to allow the frequency inverter to be replaced, tested or programmed while the motor continues operating through the bypass. The controls on the front of the cabinet unit allow users to issue start and stop commands over the frequency inverter as well as the bypass circuit. The CFW701 has a built-in fused disconnect switch, eliminating the need for additional protection components such as circuit breakers or fuses.
The package also has high short circuit capacity without additional components covering a range of 35 to 100 kA. The control and power sections are located in the cabinet unit below the frequency inverter to prevent accidental user contact with live components while operating the CFW701. All components of the system come from WEG's automation products portfolio and comply with the UL508a standard. The enclosure protection rating is IP20 in the standard version. The CFW701 with bypass function is optionally available in versions with IP21 or NEMA1 protection rating.