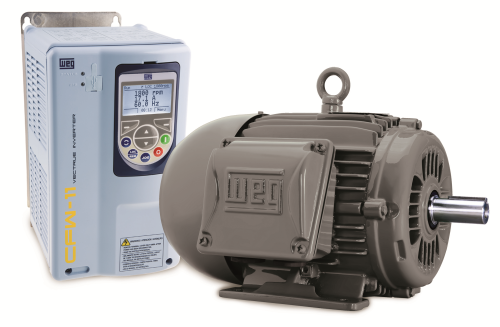 Highlights on the stand included WEG's CWF100 mini frequency inverter, this compact inverter is available in three sizes for rated motor power from 0.18 to 0.75 kW and rated current from 1.6 to 4.2 A. These mini frequency inverters are designed for simple technical applications in the commercial and consumer sector, such as motorised hospital beds, lift doors, swimming pool pumps and fitness equipment.
The CFW100 can be fitted into electrical cabinets and machines for controlling the speed of three-phase induction motors. The CFW100 features an intuitive human machine interface (HMI) with an LCD display, along with an integrated micro-PLC, which supports IEC 61131-3.
Also demonstrated was WEG's new IE5 permanent-magnet motor. With rated efficiency of 96.6% and  lower losses than IE4 motors, these are among the first commercially available motors that conform to the recently formulated criteria for a potential IE5 energy efficiency class.
With the EU Motor Efficiency Regulation EC 640/2009 taking effect in 2015, stipulating that IE3 induction motors, or alternatively IE2 motors driven by frequency converters, must be used in industrial applications, it is essential that mechanical and plant engineering firms take action. As a drive solutions expert, WEG offers a full range of options with the world's widest range of energy efficient low voltage motors. Additional new product focuses included the W22X flameproof motors in efficiency class IE4 and WEG's new W40, W50 and W60 series of standard industrial motors which incorporate advanced technology to give a reliable and efficient performance.