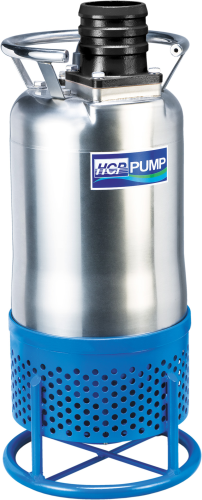 The AS and AG range feature a high efficiency dry motor with a double outer casing water cooling jacket which flows around grey iron stator housing, providing transmitting motor heat during operation. This allows the motor to operate with improved efficiency.
The pumps have a high chrome alloy steel impeller and wear plate/ring hardening to HRC 55 to 60 which provide resistance, prolong operation at rated performance and can reduce maintenance costs. A selection of open and enclosed channel impellers suit a range of operations.
HCP's submersible pumps also have a shaft seal system featuring dual mechanical seals with a  single spring coiled design which can improve flexibility and accommodate break away shock loading and prevent leakage issue. An additional oil seal helps improve durability.
The AS and AG series are suitable for tunnel dewatering, groundworks and fluids containing solid sediment.