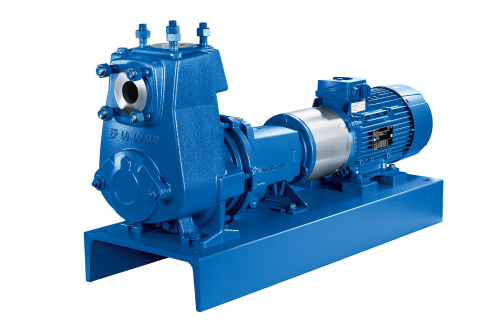 KSB says the new pump sets offer good suction properties, also under relatively poor inlet conditions; they deliver even if the inlet pressure is low. Fluids with entrained gas can also be handled, while it is not necessary to install a foot valve.
The pump sets are designed for handling fluids of temperatures between –30°C and +90°C. Their maximum head is 105 m and the flow rate can come up to 180 m3/h.
The type series of the new generation comprises 28 sizes, which can be driven by either 2-pole or 4-pole IE3 motors. The pumps are available in compact close-coupled design (Etaprime B) or as classic baseplate-coupling-motor versions (Etaprime L).
Depending on the application, the customer can choose between oil-lubricated rolling element bearings or those grease-packed for life. It is also possible to provide connections for temperature or shock pulse sensors on the bearing brackets.
The materials available include cast iron and stainless steel. These options make the new type series suitable for a much wider application range, rather than for merely handling water.