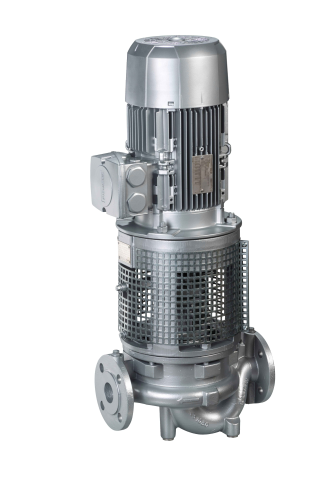 KSB's has made another addition to its range of heat transfer fluid pumps: In April the Frankenthal-based pump manufacturers introduced their new Etaline SYT series. The single-stage volute casing pumps are designed with suction and discharge nozzles on the same axis, which is also referred to as in-line design. The piping layout for such pump sets can be kept very simple, so they are an ideal choice for compact heating systems and confined spaces.
The pumps cater for a maximum flow rate of 316 cubic metres per hour and heads of up to 69 metres. Etaline SYT pumps handle hot water as well as mineral and synthetic thermal oils at temperatures of up to 350 degrees Celsius. Robust in design, the new pumps are particularly suited to the rough conditions experienced in heat transfer systems.
Computational fluid dynamics
The developers used computer-aided flow simulations, called CFD (computational fluid dynamics), to optimise the hydraulic system of the new pump sets, particularly the hydraulic passage of suction elbow, volute casing and impellers. Pumps fitted with this hydraulic system are highly energy-efficient.
Available in ten sizes, pumps can be selected for almost any duty point required. The pumps will thus always run close to their best efficiency point, which results in high energy efficiency. Prior to being delivered, each pump will have its impeller diameter trimmed to the duty point of the system it will be installed in. As standard, all pump sets are fitted with IE2, IE3 or IE4 electric motors; variable speed systems can be added as an option.