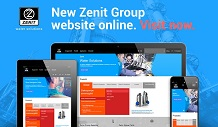 The site has been completely renewed to improve the visitor experience with a more user-friendly structure, which gives fast access to information and contents. The Home Page is designed to guide visitors to the main contents: Products, Applications, Zeno, Case Histories and News.
The new Zenit Group website has not just had its graphics restyled; it is packed with tools and information to deliver a useful and enjoyable navigation experience. With the Zeno Navigator, the area for water professionals and system designers, the whole Zenit world is only a click away: product selection and configuration, detailed information, technical drawings, manuals, and clear, direct parts selection, which will all lighten the workload for those in the industry.
The website is fully integrated with social media channel and has been developed to be highly responsive. It has been optimized for use with a PC, smartphone or tablet, to guarantee that all contents are fully available wherever you may be.