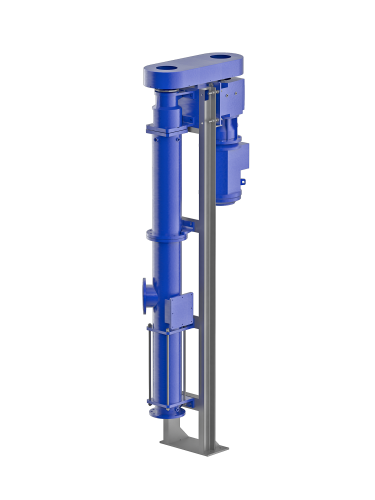 A Swedish pulp and paper producer has invested in two Mono E-Range progressing cavity (PC) pumps which will be used in conjunction with the existing Mono equipment already in use at the plant in Stockholm.
Faced with the need to increase the capacity to pump coating compound from a storage vessel out to a paper coating machine, the customer approached pump solutions provider, AxFlow, who are a distributor of Mono products in Sweden. "The coating compound involved is extremely abrasive and highly viscous," says Hans Lundkvist, AxFlow's Sales Engineer in Sweden. "This meant that the pumps chosen had to be rugged enough to provide reliable performance and we know that Mono's E-Range pumps would work perfectly as they are well proven in this type of application."
"As the customer already had a number of vertically mounted Mono pumps installed and was very satisfied with their performance, a pair of Mono E-Range belt-driven pumps were the obvious choice when they needed to increase capacity. The fact that they could be vertically mounted was another added benefit, as floor space was limited with this particular application."
The coating clay in applications such as this are highly shear sensitive and can contain up to 75% solids, including kaolin, marble, carbonates and titanium oxide. It can also dry instantly, making it essential that the pumps used can prevent moisture loss, while still providing a gentle pumping action to avoid shear damage to the coating clay during transfer.
The vertically-mounted high pressure E-Range pumps claim to offer outstanding reliability and efficiency for applications where particularly abrasive or viscous fluids are being handled. The pumps incorporate a helical rotor turning within a resilient rubber stator, providing a smooth low shear action which ensures the integrity of the coating mix remains intact. The pumps also feature Mono's unique Flexishaft drive system that provides a single component link between the rotary motion of the drive shaft and the eccentric motion of the helical rotor.
Mono's PC pumps are regularly used in pulp and paper applications to handle a variety of aggressive liquids and slurries from coating compound and black liquor through to lime and waste sludges. Their positive displacement action allows for accurate volume control, while their rugged construction ensures long life, reliable operation and minimal downtime.