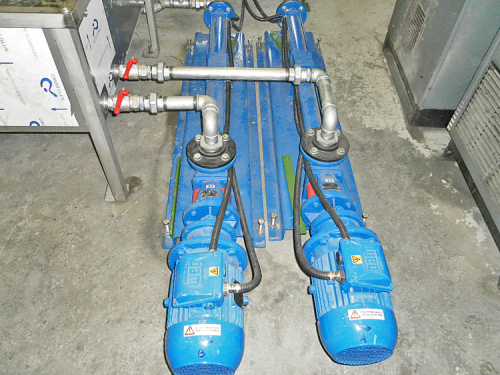 A UK supplier of dipping plant and ancillary equipment to the world's latex, nitrile and PVC industries has underlined their confidence in NOV Mono by ordering four Epsilon high pressure progressing cavity pumps. The pumps have been fitted to the balloon-making equipment manufactured by Greenbrook Automations of Chesterfield, and have helped to transform the company's reputation with its customers.
Previous experience
"We had previously been using another brand of progressing cavity pump on our equipment but they were proving to be inferior," says Managing Director Robin Gronbach. "Customers were complaining that the pumps were suffering failures and that was beginning to affect our reputation as a manufacturer, so we had to make a change."
The pumps fitted to the balloon-making equipment were handling highly abrasive, fine powder slurry, made of ground-up sedimentary rock known as Diatomaceous earth. Greenbrook required new pumps they could rely on to handle such a demanding application. "We had some experience of Mono equipment and knew that the company had a good reputation," continues Robin. "When we investigated further we found that the Mono pumps were very competitively priced, but were also a lot better in terms of quality.
"We made the decision to go with Mono and it was definitely the right one. The pumps are powerful, rugged and reliable. We have been 100% happy with the Mono pumps, and the difference they made was immediately noticeable. We've had no failures at all and no other problems either since switching to Mono. We supplied the Mono-equipped balloon making equipment to a customer in Peru and they've reported that it has actually helped speed up their production process."
Low whole-life costs
The Epsilon pumps are designed to deliver low whole-life costs and reduced spares requirements. Their gentle pumping action and low running speeds are ideal for highly abrasive applications such as this, and they can be installed vertically or horizontally for increased versatility. They feature a compact bloc construction, Mono's unique Flexishaft™ drive shaft connection, which eliminates wearing components, and a 10-year warranty for continued peace of mind.
"The Mono equipment has made an enormous difference both to us and our customers," concludes Robin. "Not only have the pumps performed perfectly, but the service that Mono has provided has also been excellent and we'll definitely be looking for more Mono equipment in future."