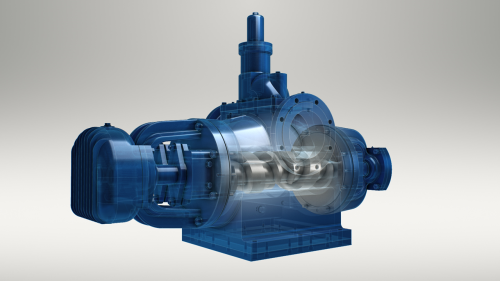 The range of self-piming positive displacement pumps
has been introduced to the UK by Michael Smith engineers.
The 3P Pera Prinz twin screw series can provide pulseless flows of up to 1700 m3 / hour and at pressures up to 55 Bar. They are available with either one or two pairs of screws driven by external gearing so the screws never come into contact with each other.
Michael Smith says the design also means high suction lift capability (typically 7 to 8.5 metres), very low Net Positive Suction Head (NPSH) values and less component wear.
They are suited to pumping fluids with low, medium and very high viscosities up to 35000 cSt and at a wide range of pressures.
Applications include the petrochemical, oil and gas, pharmaceutical and food and beverage industries pumping materials ranging from bitumen to molasses.