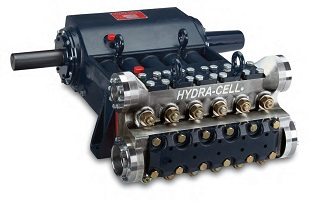 This is an expansion of the Hydra-Cell range of seal-less high-pressure diaphragm pumps which eliminates the expense associated with seals and packing, leakage, external lubrication and emissions.
Achieving flow rates of up to 595 lpm and pressures up to 241 bar, the pumps have low NPSH requirements, allowing for operation with a vacuum condition on the suction - positive suction pressure is not necessary. Hydra-Cell Q155 series pumps can operate with a closed or blocked suction line and run dry indefinitely without damage, eliminating downtime and repair costs.
The diaphragm design handles solids up to 800 microns along with the minute abrasive particles that cause wear in gear, screw or plunger pumps. Five diaphragms in a single pump head guarantees virtually pulseless flow and tests have shown that these pumps are able to handle shear sensitive liquids better than rotary positive displacement pumps.
There are some five pumps in the Hydra-Cell Q155 range to ensure that any pressure and flow rate requirements are covered in the most economical way.