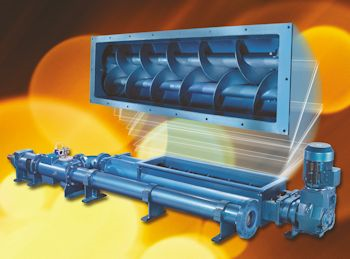 It features a twin-screw feeder which supplies a constant, pressurized feed rate to the pump resulting in a 100% pump cavity fill rate. The system features an integral hopper with a twin-screw auger feeder and progressing cavity pump that can handle dewatered municipal sludge to over 50% solids. The enhanced design of the Ultra-Feed pump rotor provides superior volumetric efficiency.
The Moyno 2000 HS System offers varying twin screw feeder and hopper lengths to match wide feed areas from centrifuges and 1–3 m length belt filter presses. The twin screw feeder and the hopper length can be modified without changing the pump arrangement.
The intermeshing augers provide self-cleaning action so filter cake will not stick to the augers and fill in the flights and the hopper sidewalls are completely vertical leading into the augers, which does not allow filter cake to bridge. The close tolerance of the augers to the sidewalls eliminates any product ledge where filter cake bridging can gain a foothold.