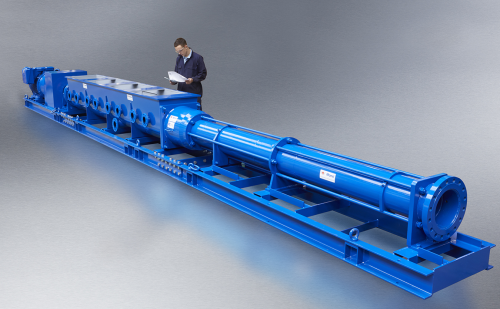 The four pumps, which are 11 metres long, have been ordered for two major wastewater treatment plant upgrade projects. They are double the size and have double the capacity of pumps normally used for the sludge cake duties they will undertake.
The NOV Mono pumps will be used in a duty/standby configuration on a cake reception and buffer silo unit. The unit will house four feeder channels to transfer sludge cake from the silos into the specially-designed, 4-metre-long hoppers of the W Range pumps. Injection points have been included in the hoppers so that additional material can be blended in to create the required degree of dry solids sludge. The W Range pumps, which also feature dry-run and over-pressure protection devices, will transfer the sludge to a pre-thermal hydrolysis process at a rate of 60.5 m3/h.
"We worked extremely closely with the client to create the pumps which would handle the huge capacity which the customer required," said Mono senior applications engineer Paul James. "They were tailored to meet the customer specific requirements and include features such as specially-designed blending points, and a variable pitch auger which will ensure a consistent sludge transfer without any imbalances in the feed stream."
The pumps were designed to be supplied in three parts for ease of installation and maintenance, as the pumps are situated in a chamber beneath the silo. Each part has its own lifting point, together with a single lifting point for when the pump is fully assembled.