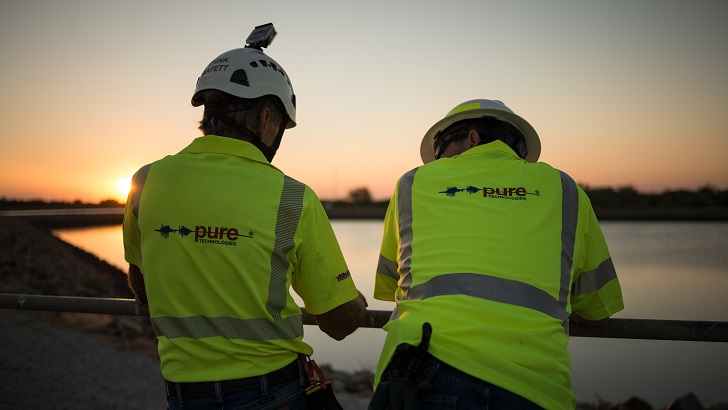 While AxFlow had a particularly acquisitive first quarter, there were also M&A deals for Armstrong Fluid Technology, Franklin Electric, Interpump, PumpMan Holdings, Selwood, Simflo Pumps, Simmons Pump, Sulzer and Xylem. The main pump-related M&A transactions in the first three months of 2018 are listed here, with links to the original stories on www.worldpumps.com.
• AxFlow moves into Baltic fluid handling market
AxFlow entered the Baltic pump market by acquiring Estonia's Bahr Pump OU, Latvia's Pumptechnique SIA and Lithuania's Flow Technologies UAB.
• Interpump to purchase GS-Hydro's international assets
Italy's Interpump Group signed a binding agreement to acquire the international assets of Finnish piping systems specialist GS-Hydro Group in a €9 million deal. The agreement covers the acquisition of subsidiaries in the UK, Spain, Austria, Germany, Denmark, Benelux, Poland, Sweden, US, China, South Korea, Singapore and Brazil, as well as the manufacturing unit of the Finnish head company GS-Hydro Oy, including intellectual property and international certifications.
• PumpMan Holdings acquires Brooklyn-based Federal Pump
PumpMan Holdings LLC acquired the assets of Brooklyn, New York-based Federal Pump. Serving New York City's five boroughs and parts of New York State for more than 90 years, Federal Pump manufactures pump systems and provides service & repair in the metro area.
• Armstrong Fluid Technology acquires Halm's circulator pump business
Armstrong Fluid Technology completed the acquisition of Halm Motors + Systems GmbH's Circulator Pump business unit in Germany. The acquired business provides high efficiency circulator pumps for heating, solar, geothermal and domestic hot water applications and will be integrated into Armstrong's global Building business.
• Sulzer seals JWC Environmental acquisition
Sulzer completed the acquisition of JWC Environmental LLC, the US provider of solids reduction and removal products such as grinders, screens, and dissolved air flotation system for municipal, industrial and commercial wastewater applications. JWC Environmental, which is headquartered in Santa Ana, California and employs around 230 people, will now operate as part of Sulzer's Pumps Equipment division.
• Simmons Pump acquires Simflo Pumps
Texas-based Simmons Pump LLC and Arizona's Simflo Pumps Inc merged, creating a new combined company that will be headquartered in Lubbock, Texas and operate under the Simflo name and brand.
• Franklin Electric buys US groundwater distribution company Valley Farms Supply
Franklin Electric Co Inc acquired Valley Farms Supply Inc, a professional groundwater distributor operating in Michigan and Indiana, in a US$9.0 million deal. With approximately US$28.0 million of consolidated annual sales, Valley Farms has three locations in the State of Michigan and one in the State of Indiana.
• Smiths Group to sell John Crane's Bearings business
Smiths Group plc reached an agreement to divest John Crane's Bearings business to Austria's Miba AG in a US$35 million deal. The Bearings business manufactures and maintains hydrodynamic bearings for the power generation, oil & gas and general industrial markets. Bearings had revenue of US$56 million in the year ended 31 July 2017, accounting for around 5% of John Crane's total revenue.
• AxFlow strengthens service offering by acquiring RDC Productions
AxFlow France acquired RDC Productions, a specialist in industrial equipment service and maintenance for pumps, heat exchangers, homogenizers and valves.
• Selwood Group acquires Siltbuster companies
Workdry International Ltd, the holding company of the UK's Selwood Ltd, acquired parts of the water treatment specialist Siltbuster Group. Siltbuster and Siltbuster Process Solutions, which provide solutions for on-site water treatment, wet waste processing and the prevention of waterborne pollution, are now part of the Selwood Group.
• AxFlow acquires German service company Pumpen Karrer
AxFlow Germany strengthened its service offering with the acquisition of Pumpen Karrer, a family-owned company that specialises in industrial equipment repair and maintenance, especially pumps, for the chemicals, food & beverage and building & construction markets. The acquired operations will become a regional base for AxFlow Germany service in the Allgau region west of Munich.
• Xylem completes acquisition of Pure Technologies
Xylem Inc closed its acquisition of Pure Technologies, the Canadian smart infrastructure assessment and management company. Pure Technologies' diagnostic and analytics solutions and services address key water and wastewater infrastructure challenges, including non-revenue water and asset management.
• AxFlow expands in Italy with Cinti acquisition
AxFlow Italy bought Cinti Srl, a specialist in installation, service and repair of centrifugal pumps, based in northern Italy. With 21 employees, Cinti serves customers mainly in the municipal water, irrigation, agriculture, water treatment and fire protection markets. The acquisition includes all the tools and facilities needed to make a complete service offer. Cinti holds 50% of Elettromeccanica Alto Adige, with a secondary location in Bolzano, strategically placed to server customers in the Alpine region.