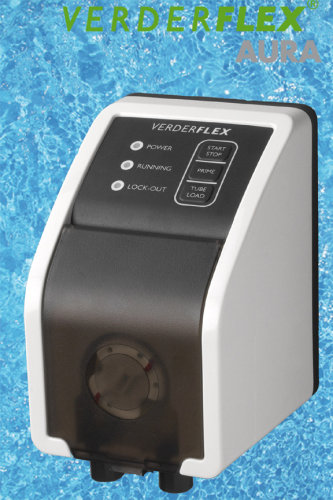 The Aura dosing pump from Verderflex can be used as an alternative to reciprocating piston pump models and is suitable for leisure centres, swimming pools, saunas, small scale water treatment plants and residential complexes.
Suitable for shearing sensitive flocculants due to its gentle pumping action, the pump is quiet in operation and is not subject to off-gassing or vapour locks. Verderflex says that the push button priming that simplifies dosing chemical changeover and further reduces downtime.
A tube, which can be made of Verderprene or silicon and polypropylene connectors, is the only element subject to wear. As it can be sterilised, the pump is more hygienic and suitable for a wider range of chemicals. It is also tolerant of small solids and therefore not dependent on solutions being thoroughly mixed.