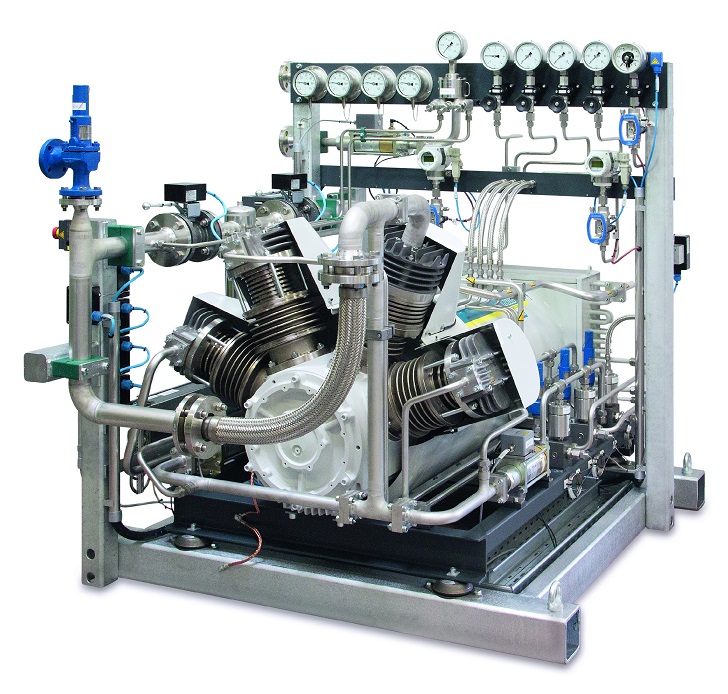 German compressor manufacturer, Sauer Compressors, will exhibit its portfolio of products, including the oil-free high-pressure compressor, the HAUG.Sirius HP 450, at the ACHEMA trade fair in June.
At this year's ACHEMA, which runs from 11 – 15 June, Sauer will exhibit its oil-lubricated compressors and oil-free HAUG products. These will include the debut of the company's  HAUG.Sirius HP 450, which combines the company's knowledge of high-pressure applications and HAUG Sauer's experience of manufacturing oil-free solutions.
The company says that the result is a powerful high-pressure compressor that is entirely oil-free, which ensures gas purity. The hermetically gas-tight construction achieves very low leak rates and enables 4-stage compression of almost any gas. With a volume flow rate of 60 Nm³/h, the compressor operates at a suction pressure of 5 bar.g and a final pressure of 450 bar.g.
Also on show will be the HAUG.Pluto, another compressor from the oil-free HAUG Sauer range and the Tornado WP3325 B3-5 BasBooster-R which represents Sauer's oil-lubricated compressors.
Sauer Compressors can be found in Hall 08, at Stand D24 at ACHEMA.