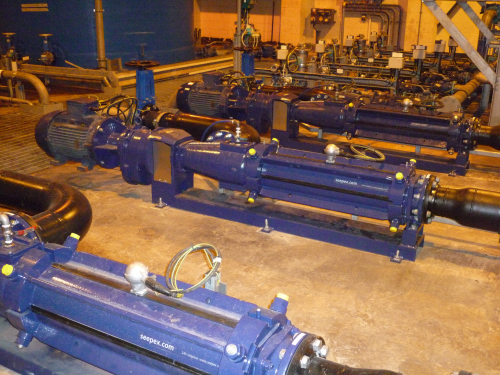 The Shell Green sludge processing site takes sludge from a wide catchment area for processing at a centralized facility where it is dewatered before being used to generate energy.
United Utilities asked seepex to look at the pump systems feeding the dewatering centrifuges to reduce operating costs. After a full diagnostic check of the system by seepex and UU engineers, seepex proposed a trial with a pump fitted with seepex Smart Conveying Technology (SCT). SCT is an innovation in progressive cavity pump design that increases uptime and offers a significant reduction of whole life costs.
During the trial stator life was extended, compared to the existing pumps, by adjustment of the retaining segments which hold the 2 part stator in place.
Increasing operating uptime
The SCT pump ran for 30% longer before the stator was replaced and this, combined with lower stator costs for this design, has generated 70% savings in spares parts costs alone. In addition to increased operating uptime, maintenance downtime is reduced by 85% as rotors and stators can be changed without dismantling pipework.
The trial was so successful that eight centrifuge feed pumps have now been replaced by seepex SCT pumps with projected savings on operating costs in the region of £50,000 per year.
Furthermore this design means that, in future, SCT pumps with readjusting capability can be installed to reduce both capital and operating costs.