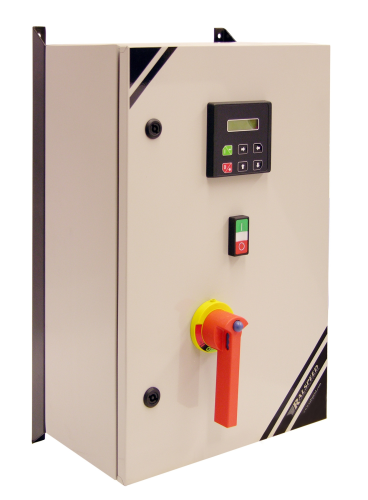 Ralspeed R54 plug-and-play soft starters are offered in two ranges, the TQM2KA range, which covers ratings from 5.5 kW to 15 kW, and the TQM2KD range, which covers ratings from 22 kW to 90 kW. Starters in both ranges have IP54 enclosures which are supplied complete with wall-fixing brackets, and are equipped as standard with isolators and stop/start pushbuttons.
Units in the TQM2KA range have fully rated isolators complemented by thermal overload relays for motor protection, while those in the TQM2KD range have a comprehensive electronic protection system and an integral two-line liquid crystal display with a keypad. In addition to overload protection the electronic system in the TQM2KD starters also provides overload pre-alarm, under-load trip, electronic shearpin, frequent start limit and phase fault detection functions. The door-mounted display can be configured to show motor current and voltage, ambient temperature, time and date, hours run, time to service and motor status. A 1,000-event data log is also incorporated, to allow historical operational information to be examined and analysed.
Applications for Ralspeed's R54 soft starters include pumps, fans, compressors, chillers, crushers and mixers and upgrading existing installations where downtime during the upgrade must be minimised. The soft starters are also a convenient and cost-effective option for use in new projects. In all applications, the soft starters provide advantages such as reduced inrush current, smooth motor acceleration which decreases mechanical wear and tear, and the elimination of torque peaks during motor starting.