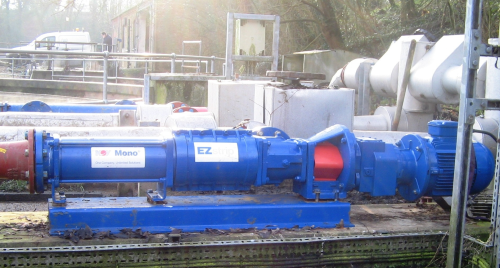 NOV Mono's EZstrip progressing cavity pump is an extension of Mono's Compact C range. The EZstrip has been specifically designed to provide a quick and easy way to disassemble, de-rag and maintain a PC pump in-situ, eliminating the costly maintenance and down time that servicing can often cause.
The chamber of the EZstrip pump has a two piece design which can be opened in less than one minute, the suction chamber and rotating parts de-ragged and the chamber reassembled with a spanner and an Allen key. The whole operation takes less than two and a half minutes (depending on the severity of the rag blockage).
The EZstrip pump can be installed into new plants or retrofitted into existing Mono Compact C installations. No electrical disconnection is required and suction and discharge pipes remain untouched. The model range has a capacity of up to 165 m3/h and 12 bar pressure, and is available in either cast iron or stainless steel. A choice of rotor and stator materials are available, including WRAS compliant elastomers and a pre-assembled drive train, with two year warranty.
Gavin Parker, sewage works operator at Thames Water, said: "It would normally take a full day just to disassemble our previous equipment, so after de-ragging the pump and putting it back together we had lost around two and a half days in total, which as you can imagine is a major setback. We specified the Mono EZstrip sewage pump because we were keen to try out the company's latest innovation for ourselves, and I have to say, it has definitely delivered – maintenance and downtime at the works has been significantly reduced. Also, because the pump requires no dismantling space, it was easily installed into the same space as the existing pump with room to spare. We are very happy with the pump's performance, everything is working perfectly."