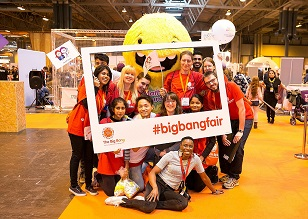 The Big Bang Fair is being held at the NEC in Birmingham from 15 - 18 March and is a combination of exciting theatre shows, interactive workshops and exhibits, alongside careers information from STEM professionals.
The Fair aims to show young people, primarily aged 7-19, the type of exciting and rewarding opportunities out there for them if they have with the right experience and qualifications. It does this by bringing classroom learning to life and showing them how what they learn in school is used by real people in real jobs.
Young people getting involved at the Big Bang Fair 2016.
The Fair gives young people the chance to hear from inspiring engineers and scientists from some of the UK's biggest companies and find out about the opportunities available in science and engineering.
The Big Bang Fair also hosts national competitions, inviting young people from across the UK to compete, amongst other things, for the title of UK Young Scientist and UK Young Engineer of the Year.
Numbers attending the show have grown considerably since it first opened its doors in 2009 and had 6,500 visitors. In 2016 it was visited by more than 70,000 people and is now supported by over 200 organisations.