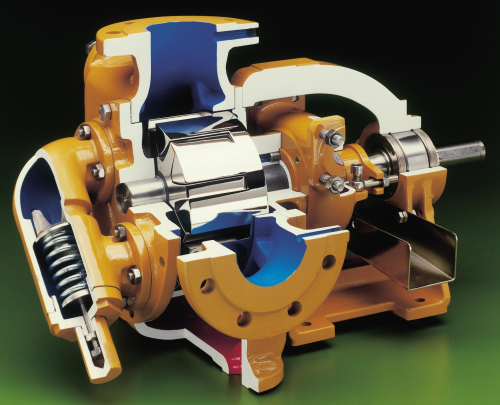 The Varisco gear pumps, from The Pump Company, have only two moving parts, the rotor and idler gear, and only one shaft. The high vacuum created by the pump permits rapid self priming at the maximum height made possible by the physical characteristics of the pumped liquid (temperature, vapour pressure, viscosity etc).
A key feature of the Varisco 'V' series gear pump is the slow speed of rotation coupled with the low rate of wear. The number of teeth on the rotor and idler are not multiples of the other. This means that wear is evenly distributed over the gears since each tooth on one gear touches on the other gear the same number of times. Peak performance can be obtained thanks to the rotor wear adjustment system, thereby maintaining the high volumetric efficiency of the pump.
The Varisco 'V' series gear pumps can be certified in accordance with the ATEX standard and is suitable for use in the petrochemical industry and can be supplied in accordance with API 676.