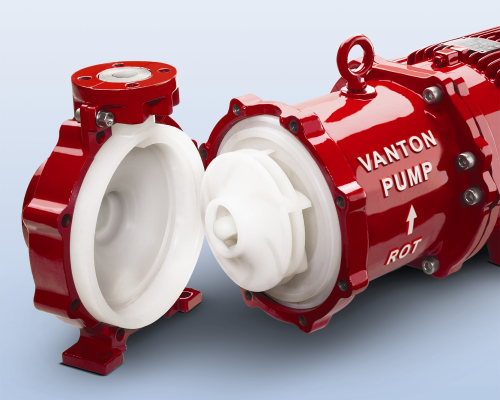 All fluid components of Vanton Pump's CHEM-GARD CGMC centrifugal pump are moulded of homogenous polypropylene or PVDF. These stand-alone, chemically inert, abrasion-resistant thermoplastic components eliminate pinpoint porosity, substrate separation and wear associated with plastic lined pumps.
The pump is available in sizes from 38x25x152 to 76x51x203 mm for flows to 91 m3/hr at heads to 50 m TDH. Permanent rare earth magnets transmit power, with the inner magnet rotor assembly encapsulated in thick-walled thermoplastic. A non-metallic containment can assembly reduces losses in magnetic force and pump efficiency by eliminating troublesome eddy currents.
Available with ANSI centerline suction and discharge, the pump allows removal for maintenance without disturbing existing piping, and can accommodate standard C-face motors. The thermoplastic wet end is encased by structural metal armour which is protected by a chemical resistant epoxy coating, enabling the pump to withstand hostile environments and tolerate the same nozzle loadings as metal pumps.