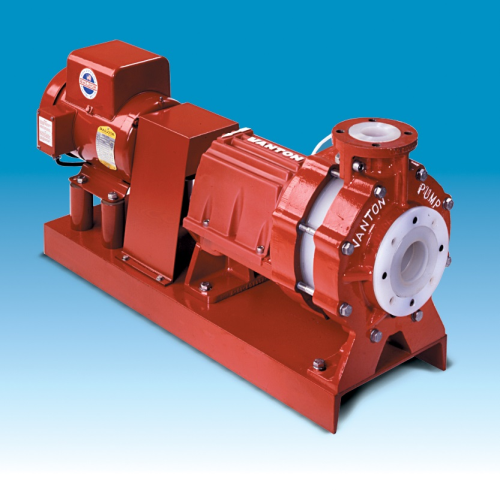 The CHEM-GARD pumps meet ANSI B-73.1 standards and are metal armored, enabling them to handle the same nozzle loadings as metal pumps.
These centrifugal pumps are also offered in other designs including self-priming, close coupled, mag drive, combination close-coupled/mag drive, seal-less, DIN as well as with motor types that have integral pump shafts.
Depending on the fluid handled, CGA pumps may be constructed of corrosion resistant thermoplastics such as polypropylene (PP), polyvinyl chloride (PVC), polyvinylidene fluoride (PVDF) or other non-metallic materials. Vanton designs and engineers each pump to a specific application and will use the right thermoplastic material to best perform that application.
CHEM-GARD CGA pumps feature reverse-mounted seal arrangements thus avoiding metal contact with the fluid therefore eliminating the need for exotic metal seals. They are rated for flows up to 1450 GPM and heads to 400 feet.