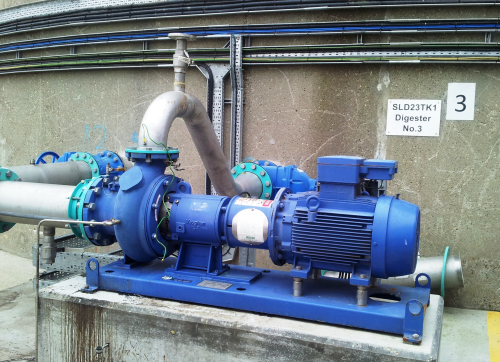 Thames Water is upgrading one of Europe's largest sewers, which currently serves 3.5 million people, to increase capacity by 60% to account for a predicted population increase of 10% by 2021. These new 'super sewers' are feeding significant volumes of sewage and effluent to the upgraded treatment works.
The projects, valued at £190m for Beckton and £220m for Crossness, will boost treatment capacity by 44% and significantly reduce the volume of storm sewage that often overflows into the Thames water course during and after heavy storms. A key part of both projects involves the extraction of biogas from the organic waste within the sewage processed at both sites. The biogas allows self-sufficiency in powering the plants through CHP (Combined Heat & Power) generating systems; selling excess energy back into the National Grid is another possibility.          
Extraction of the gas is performed by 12 anaerobic digesters across the two sites. Each digester uses a pair of VAUGHAN HE6W10-277 Horizontal Chopper Pumps driven by 30 kw/4 pole WEG motors, selected and supplied by P&M Pumps Ltd.
Each pump set is sited outside the large-scale ROTAMIX digester systems and pumps through four floor-mounted double nozzle assemblies inside each 3600 m3 digester to quickly achieve a complete and dynamic mix, suspending all organics, fats, oils and grease (FOG), grit and non-organic solids into a homogenous slurry.      
The ATEX conforming EExd rated WEG motors operate at high efficiencies and are an important factor in contributing to the project's overall energy efficiency.