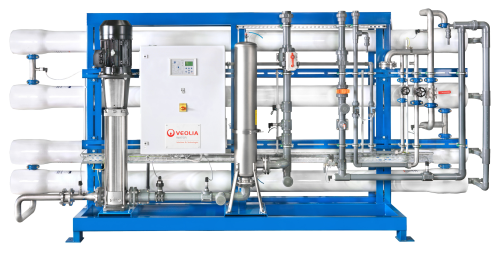 The MegaRO Mk2 from Veolia produces up to 30 m3/h of high purity water, removing up to 98% of dissolved inorganics and over 99% of large dissolved organics, colloids and particles.
Features of the MegaRO Mk2 include low pressure membranes, which significantly reduce operating pressure, and a variable speed drive meant to ensure that the pump always operates at its most energy efficient level, whatever the flow rate. The result is minimised energy consumption and lower operating costs.
Other key features which have been retained include an integral 5µm pre-filter for membrane protection, permeate diversion on start-up to ensure water quality, and a timed recirculation rinse to reduce membrane fouling. Options include chemical dosing equipment for anti-scalant and sodium bisulphite, a concentrate rinse valve and automatic pH control.