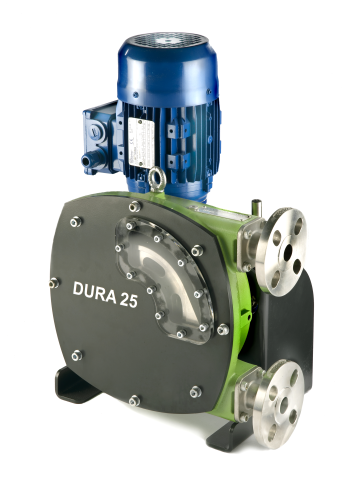 A packaging company in Australia needed an effective means to transfer glue at 6 l/min from its IBC holding tanks to its glue rollers. A flow rate of 6 l per minute was required. After carefully analysing the application, a Dura 25 hose pump was selected because of its low shear and viscosity liquid handling.
Verderflex report that this recommendation was made to the client for the following reasons: • The Dura peristaltic hose pump's simple drive change ensures maximum 'up-time', reducing maintenance    costs • The reduced number of wear parts ensures ease of maintenance and lower product lifetime costs • Reversible operation so the customer could run the pump backwards and to clear lines of glue and minimize wastage; the quieter pumping action and GMU (Gear Motor Unit) gives improved health and safety benefits • As the Dura 25 pump pulses, the customer found that installing a larger discharge pipe could aid in acting as a pulsation dampeners • As an additional service, pressure switches was supplied to switch off the pump when the valve on the discharge was closed.
The recommended Dura 25 pump has proved to be a much more cost-effective and efficient solution over against the client's original suggestion of a lobe pump. The six Dura pumps supplied, are working to their maximum capacity and the client is very happy with their overall performance.