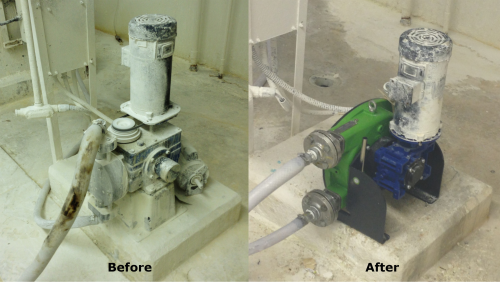 A water treatment plant in the US state of Georgia uses several wells to provide its residents and industries with fresh water. Each well site had to be equipped with the appropriate treatment equipment to ensure that the water meets and exceeds regulatory requirements.
One such well site used a diaphragm-style reciprocating metering pump to pump lime slurry directly into the well output. The well runs about 12 hours per day and discharges either to the system or to the tower for storage. Lime slurry demand is up to 11.4 litres per minute (3 gallons per minute) and must be pumped at pressures exceeding 4 bar (60 psi).
Traditional diaphragm-style metering pumps use check valves which wear out and cause efficiency loss. Because this well site is unmanned, water plant supervisor Mr. Gibson or his associates had to make daily trips to the site in order to check the pump's efficiency. This took up a lot of time and was becoming a major headache for the department.
Solution
Verder's local representative, GPM Environmental, introduced the plant to the Verderflex Dura, a peristaltic metering pump that does not suffer from abrasive wear and does not lose efficiency over time. Mr Gibson purchased one unit and was immediately pleased with how smoothly and quietly the unit ran compared to the old diaphragm pump. After the initial two month installation period, Mr Gibson quoted that:
"The old pump lost flow and we had to constantly check on it. The new pump is very consistent; we never have to adjust it."
As an added bonus, Verder was able to retrofit the existing motor and VFD, saving over a thousand dollars in equipment cost. All in all the plant is very pleased with the value delivered by Verder, and is looking forward to upgrading all of their diaphragm pumps to Verderflex Dura Hose Pumps. For more information please contact Verder, Inc.