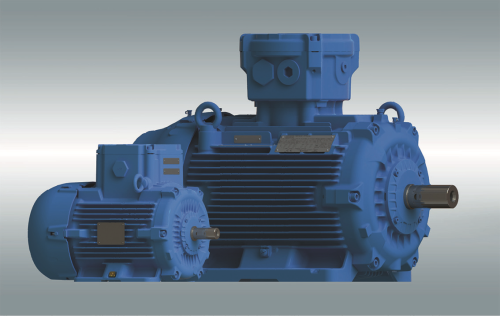 Produced at Maia in Portugal, the WEG W22Xd flameproof motor meets worldwide standards and is certified to meet European ATEX and International IECEx requirements. The WEG W22XdB/W22XdC and W22XdM flameproof motors are designed to meet the certification requirements for equipment installed in oil & gas and mining hazardous areas respectively.
Complying with the ATEX Directive 94/9/EC, it is classified as Group I (mines susceptible to firedamp) and Group II (surface industries), for gases Group IIB and IIC, suitable for use in hazardous area defined as Zone 1 - Gases and Vapours (G), and Zone 21 – Gases, Vapours and Dust (GD).
Mr Siegfried Kreutzfeld, Managing Director- Motors Division for WEG is also to deliver paper to the Europump Conference which is to be held at St. Andrews in Scotland in May 2014.
Larger output
Andrew Glover, Low Voltage Motors product Mmanager for the European Market at WEG, says: "WEG Euro in Portugal started development in 2002 of its line of flameproof motors covering the larger power output segment for low, medium and high voltage supplies up to 11kV."
"Having already introduced motors in frame sizes 315 to 500, the line has now been extended to include larger sizes through to a 710 frame. Complying with the latest editions of IEC/EN 60079 standards, the new W22Xd line affords WEG the capability to provide a comprehensive range of hazardous area motor products from IEC frame sizes 71 to 710."
The European and International certifications the W22Xd has been awarded include Ex d(e) I Mb, Ex d(e) IIB T4 Gb, Ex d(e) IIC T4 Gb and Ex tb IIIC T125°C Db IP6X designations. Other National and Regional certifications, such as TRCU / GOST (Russia), CCOE (India), INMETRO (Brazil) and CSA (North America) are also available.
Features of the W22Xd 560-710 frame design include a stainless steel tube array which provides air ducts affording both axial and radial flow paths which optimise cooling of the rotor, stator and critical components such as the bearings. It is fitted with an aerodynamic fan and cover for efficient air flow with minimum noise.
FEA design
Designed with finite element analysis (FEA) software, this new cooling system provides outstanding heat dissipation which reduces thermal stress on the insulating materials which age. It also eliminates hot spots by providing a uniform temperature distribution throughout the frame.
The main terminal box of the W22Xd box has been redesigned, and incorporates fixing bolt housings affording protection from impacts and environmental damage, and prevention against accumulation of water whilst providing generous space for easy connections. There are multiple options available for the main power terminal box, and accessory terminal boxes for connecting motor protections such as current transformers, surge arrestors or surge capacitors can also be provided across the W22Xd range.
Available with two, four, six or eight poles (higher polarities available on request) in medium and high voltage versions and a range of outputs from 500 kW to 4500 kW, the W22Xd 560-710 frame range is based on a welded steel construction and features integral solid feet to minimise vibrations, complementing the low noise outputs.
With the W22Xd range, WEG has the capability to provide flameproof motor solutions for application in virtually all extreme conditions such as ambient temperatures from -55° to +60° and altitudes up to 5,000 m above sea level.