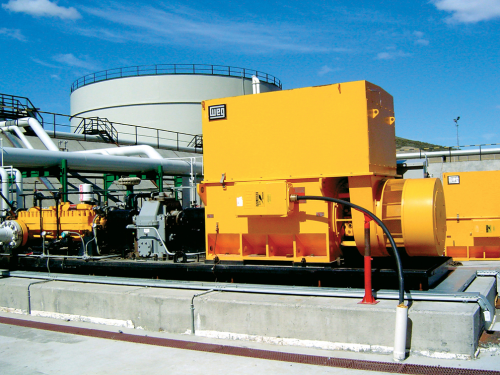 In Moscow, Russia 15 – 19 June 2014 on stand 13C9, WEG will be exhibiting its energy-efficient and high performance equipment at World Petroleum Congress for the first time.
Visitors to the WEG stand will be able to see the very latest in the company's range of motors, generators, drives and controls, and meet industry experts to learn more about how to increase operation efficiencies.
For example, WEG's W22XB high efficiency motors are providing an explosion-protected solution for Rosneft, a major Russian oil company, in the harshness of the Arctic Circle. Designed for long term operation at temperatures down to -60oC, the W22XB motors are driving crude oil pumps in the giant Vankor Oil Field situated in the Siberian Region, Krasnoyarsk.
WEG is also a major supplier of control and automation systems and equipment to Brazilian oil company Petrobras and its equipment provides energy efficient operation in the most arduous applications and environment, regardless of the location: from projects in the coldest regions of Siberia and the deepest oceans of the world, to the hottest deserts in the Middle East.
Stand highlights
Highlights on the stand include the WEG W22Xd low voltage flameproof motor which meets worldwide standards and is certified to meet European ATEX and International IECEx requirements, and the TRCU / GOST certification in Russia. The motor has been designed in conjunction with the oil and gas industry to deliver outstanding performance, reliability and safety in aggressive and explosive atmospheres.
It has a high energy efficiency rating to IE4 and as a result, users can optimise their processes and reduce energy usage. The new W22Xd line affords WEG the capability to provide a comprehensive range of hazardous area motor products from IEC frame sizes 71 to 710.
Used on many applications including water injection, multi-stage gas compression and oil pipeline duties, the M-Line is WEG's cornerstone product for the oil and gas market. Designed for larger applications in the output range up to 20 MW, the M-Line range utilises a box frame construction that is suited to Ex.p. and pre-start purged Ex.n. applications for zone 1 and zone 2 areas having low leakage rates.
The internal dispersement pipes within the box frame ensure an efficient and quick purge cycle thus keeping the cost of providing purging air/ inert gas to a minimum and, more importantly, providing quick start up times for operators.