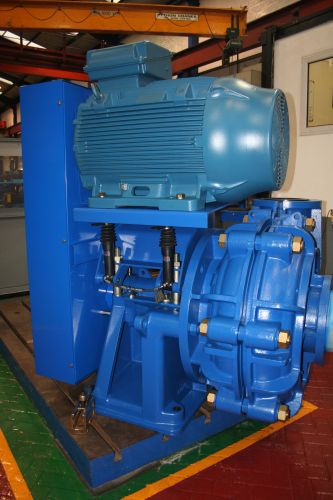 Weir Minerals' Gemex tensioner has been incorporated into updated versions of the company's latest and most advanced heavy-duty slurry pump, the Warman WBH centrifugal slurry pump and the medium-duty Warman MU pump.
These are the first combined pump-and-tensioner packages to be added by Weir Minerals since the integrated package was designed for the company's Warman AH pump, in 2013. The Gemex system was launched in the European market in 2012 after Weir Minerals acquired Sweden-based Gema Industri.
Reduced downtime
By integrating a hydraulically-adjustable and mechanically-lockable motor platform onto the pumps' bearing assemblies, the system removes the need to realign the motor each time the drive belt needs to be replaced, reducing the downtime required from hours to minutes.
Tony G. Locke, managing director of Weir Minerals Europe, said: "All too often we see the performance of our pumps compromised by poorly-adjusted belt-drive systems. When properly tensioned and aligned, a belt system is one of the best ways to drive a pump. However, the need to replace the belt periodically is a major drawback, requiring downtime and increasing the possibility of incorrect tensioning or alignment, leading to poor performance.
The Gemex belt tensioner has historically been used in the mining and paper industries. However, more recently it has become applied in other sectors which use belt transmissions, including pharmaceuticals, hospitals and public buildings.