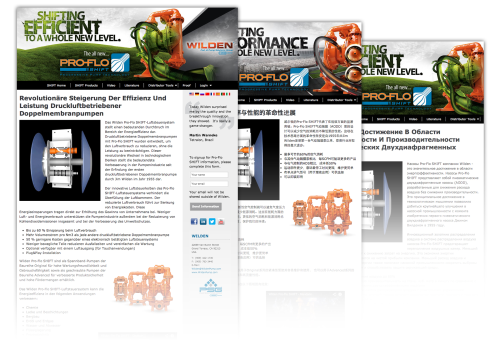 Wilden is expanding its Pro-Flo Shift line of air-operated double-diaphragm (AODD) pump technology by making its ProFlo Shift.com website and related marketing collateral available in seven different languages — French, German, Italian, Mandarin, Portuguese, Russian and Spanish. 
Visitors will also see an animated image clearly demonstrating how the air control spool restricts air flow to the filling air chamber at the end of each stroke, dosing in the proper amount of energy required to complete the stroke. In addition, written materials such as flyers, brochures and manuals can be downloaded in each specific language. The website is available in the following languages:
• French • German • Italian • Mandarin • Portuguese • Russian • Spanish
Wilden claim that the Pro-Flo Shift Air Distribution System (ADS) allows its Advanced Series bolted and Original Series clamped AODD pumps to achieve up to a 60% savings in air consumption over competitive AODD pump technologies for greater product yield per standard cubic foot per minute (SCFM).
The company also claims that while the Pro-Flo Shift costs 50% less than an electronically-actuated ADS, is submersible, and features plug-and-play operation. The system has been designed for use in harsh operating environments and includes ATEX compliance for use in potentially explosive atmospheres. Using fewer operating parts, the design prevents overfilling to prolong diaphragm life and reduce noise, maintenance and repair for less downtime and a lower total cost of ownership.