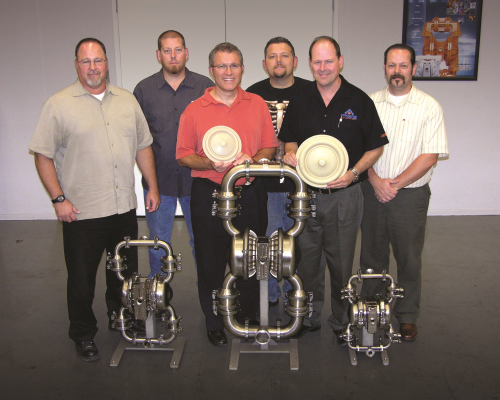 Air-operated double-diaphragm (AODD) pump manufacturer has announced that its full-stroke integral piston diaphragm (FSIPD) has received Patent No. 8,496,451 from the United States Patent and Trademark Office.
Constructed of Wil-Flex (Santoprene), FSIPDs do not incorporate an outer metallic plate that requires the pump to be cleaned manually. Instead, the metallic plate is integrated into the material itself, resulting in a diaphragm design that uses the same shaft and inner piston as Wilden's rubber and TPE diaphragms to maximize performance.
Wil-Flex FSIPDs are marketed as easy to install and do not require inverting of the diaphragm for installation. Wilden FSIPDs do not use any adhesives that could get exposed to the pumping media. In addition, their material and construction make them a cost-effective alternative to PTFE IPDs.
Wilden's full-stroke integral piston diaphragms are FDA-compliant and feature flow, suction lift and efficiency comparable to rubber and TPE diaphragms with clean-in-place (CIP) capabilities. They also meet FDA CFR 21.177, EHEDG and 3A requirements.