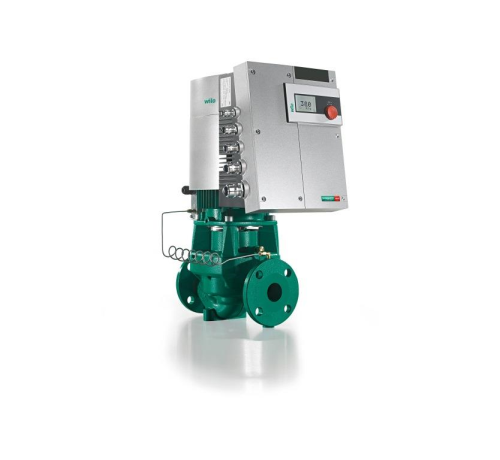 "The Wilo-Stratos GIGA saves up to 70% energy compared to conventional pumps without speed control," explains Wilo product manager Helene Tenret.
"Per pump and per year, this amounts to a saving of up to 8 tonnes of CO2."
When developing the GIGA, the company studied the design thoroughly to achieve an optimum match-up between all components from the drive and the electronics through to the hydraulics.
The GIGA glanded pump has also been developed taking into account the requirements of installers and consultants. As a result, it is reliable, user-friendly and efficient to use, as well as presenting little complexity, Wilo-Stratos reports.
The heart of the pump is the High-Efficiency Drive (HED), a motor with an efficiency that exceeds IE4. The speed of EC motor technology can be adjusted precisely to hydraulic components. The use of material, specifically iron and copper, has also been reduced. This increases efficiency, and also delivers a very compact design. The HED motor for the GIGA can be as small as a third of the size of some conventional asynchronous motor with the same rated power, the company says. This improves its performance, and also makes handling easier during installation or replacement.
The hydraulics for Wilo-Stratos GIGA also help ensure the maximum possible efficiency in the pump. Both the housing and the impellers are shaped very precisely into a geometric form that maximises flow. Increasing the speed reduces the size and weight of the hydraulics, so that company was able to make the impeller diameter smaller, and with that, the entire pump housing too, without impairing the hydraulic output. As a result, the weight has been lowered by as much as 55% and the size reduced by up to 39% compared to conventional pumps. 
The system is designed to be durable and versatile, reliably pumping a wide variety of media over a temperature range of -20 to +140°C.