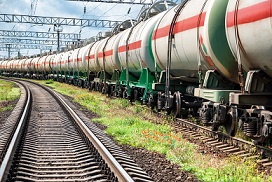 Using a radar tank sensor integrated with a Signal Fire Remote Sensing System, technicians only need to place the radar sensor inside the tank when it is first opened and remote it when the tank is full of spent acid. 
Previously, technicians used a measurement stick to determine the levels of sulphuric acid in rail cars shipped to the site daily by a refinery.  This exposed workers to acid fumes and tank measurement by stick varied in accuracy, depending on the operator. An operator could make as many as 10 checks during an 8-hour shift to verify tank levels.
Interfacing with the radar tank sensor, a SignalFire Class 1 Division 1 Sentinel HART node sends tank level data through a mesh network where it becomes available for download into a computer. The hazardous location node also powers the sensor, making the level monitoring system completely wireless.  A SignalFire Toolkit provides software for interfacing with the equipment from the office.  As an entirely wireless system, the SignalFire Remote Sensing System eliminates the need to run conduit as required by a wired system.