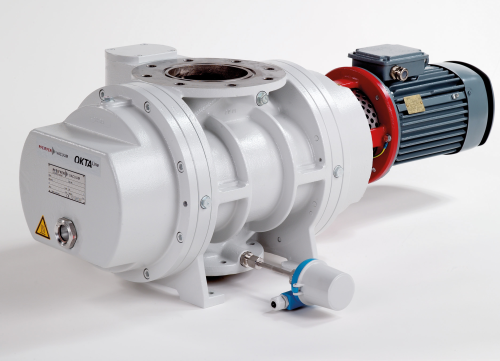 Pfeiffer Vacuum has introduced the world's first ATEX certified Roots pumps with a magnetic coupling to the vacuum market.
The tried and tested Roots pumps principle was further developed for this certification and named OktaLine ATEX. Vacuum pumps in the OktaLine ATEX series are ideal for processes in explosive areas or for evacuating explosive gases according to the ATEX directive (94/9/EC): in chemical and process technology applications, industrial applications, coating, the semiconductor industry and research & development.
Depending on the application, clients can choose between equipment category 2 and 3. All pumps are suitable for temperature class T3.
The magnetic coupling was a major contribution to the existing tried and tested Roots pumps. These hermetically-sealed pumps have very low leakage rates of less than 1x10-6 Pa m3/s. Due to the magnetic coupling, it was possible to omit the shaft sealing rings, which are inherent weak points when pressure surges occur and are also high-maintenance.
Pumps in the OktaLine ATEX series are resistant to pressure surges of up to 1,600 kPa. In addition, use of the magnetic coupling prevents a gas exchange between process related internal and external atmosphere. OktaLine ATEX is a complete line of pumps that covers the pumping speeds from 280 m³/h to 5,190 m³/h. The gear box and bearing areas in the Roots pumps are separated from the gas pumping chamber. Due to the contactless operating principle of the Roots pistons, technically dry operation is ensured. Another advantage is the use of air cooling, as operating costs are significantly lower than with water cooling.