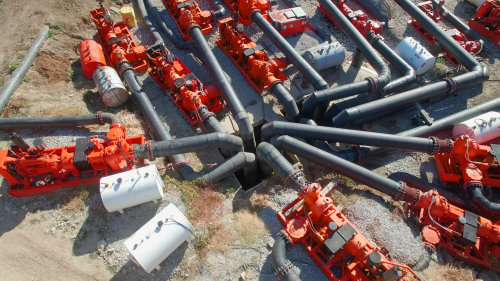 Unprecedented rainfall during spring 2016 eroded the soil supporting a 96-inch sanitary sewer main that carried wastewater to one of the city's central treatment plants.
Under a City of Memphis Emergency Response Plan, Xylem designed and developed a turnkey bypass solution to maintain sewer services, minimize the environmental impact and ensure regulatory compliance, while the main line was repaired.
The bypass system needed to handle 160 million gallons per day (MGD) of peak flow and traverse 2400 linear feet from the suction point to the discharge location.
Fourteen Godwin diesel-driven Dri-Prime CD400M pumps, two Godwin hydraulically driven CD300M pumps and nearly 30 000 linear feet of HDPE pipe were commissioned as part of the turnkey bypass, successfully pumping 60 million–160 million gallons per day of raw sewage.
The project included the construction of a 2400-foot-long, 40-foot-wide road through swamp land, so the site could be accessed.
"This project is a great example of how we use our in-depth experience and resources to rectify an emergency situation, while minimizing environmental impact and ensuring adherence to all regulations," said Ken Albaugh, regional director for Xylem's pump rental business.
"Xylem provided us with the expertise and efficiency we needed in this emergency situation," said Paul Patterson, Environmental Engineering Administrator for the City of Memphis. "This allowed us to focus our efforts entirely on design and construction and getting the pipe replaced. And that was key."