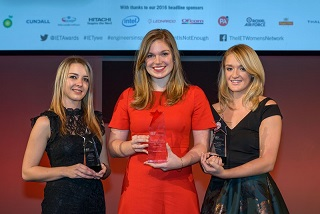 The IET Young Woman Engineer of the Year was awarded to Jenni Sidey, a lecturer in the Department of Engineering at the University of Cambridge, currently working on the development of the latest low emission combustion devices for use in the transport and energy sectors. 
Gemma Dalziel received the IET Mary George Memorial Prize for Apprentices. Gemma is an apprentice network consulting engineer at Cisco, working on network technologies and network security.
Finally, the Women's Engineering Society (WES) Award went to Bethan Murray, a manufacturing systems lead at Rolls-Royce plc, working on the systems that aid the manufacture of the latest aircraft components.
All three winners will play an ambassadorial role for the engineering and technology professions in the forthcoming months, promoting engineering careers to girls and young people.
As well as highlighting female engineering talent, the IET Young Woman Engineer of the Year Awards seek to find female role models who can help address the UK science and engineering skills crisis by promoting engineering careers to more girls and women. Women currently represent only 9% of the engineering workforce in the UK, the lowest percentage in Europe.