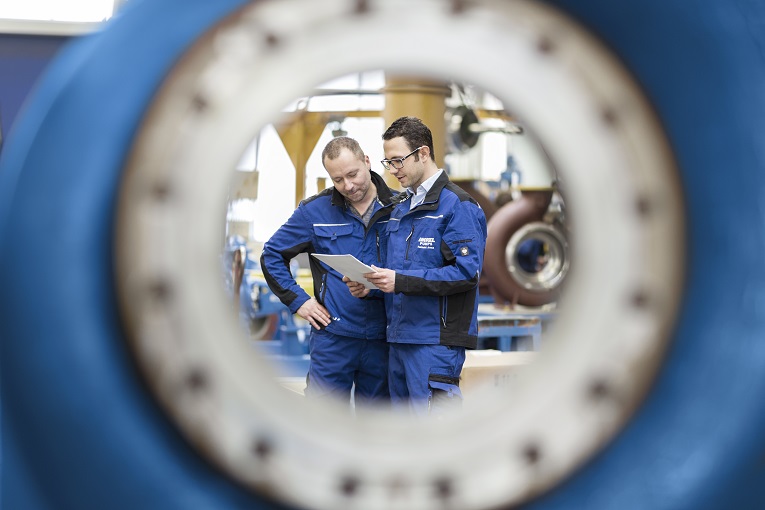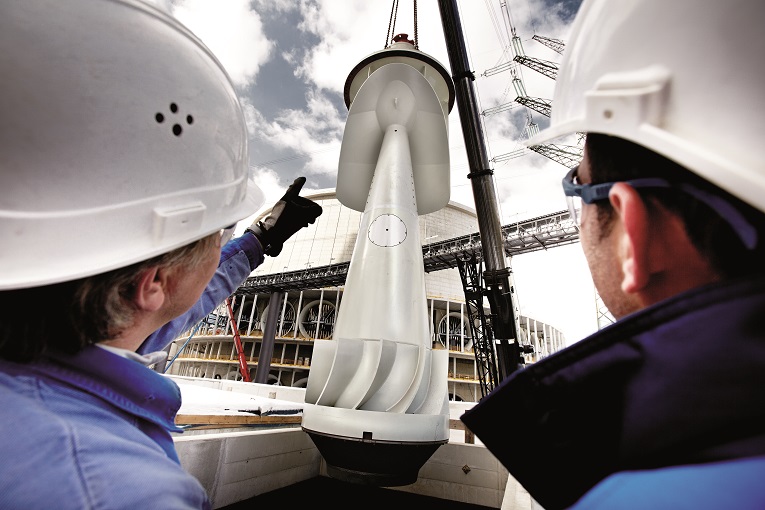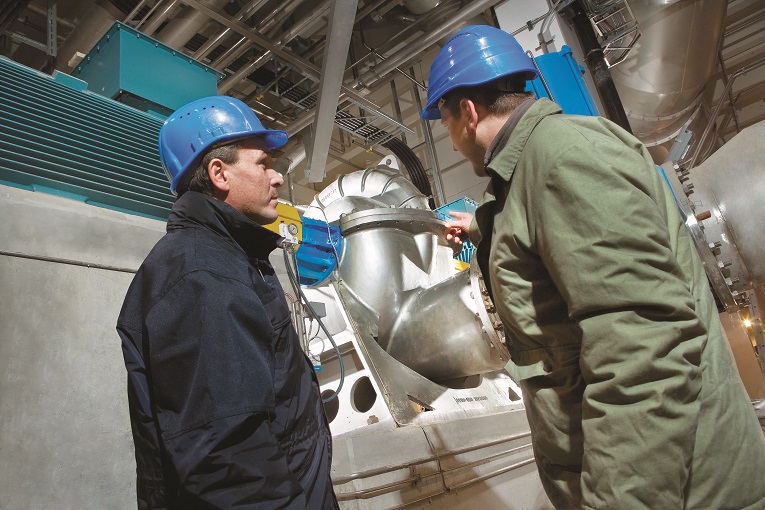 Service and maintenance of pumps have a very long tradition at international technology group ANDRITZ. The focus of the comprehensive service offering is to achieve the best possible energy- and cost-saving potential for its customers worldwide.
Energy is becoming increasingly expensive and important, just as the ecological footprint of companies is being monitored more and more. Against the backdrop of growing environmental awareness and constantly rising cost pressure, companies today can no longer afford to consume energy unnecessarily, let alone waste it.
For centuries, hydropower has been of crucial importance in generating renewable, clean energy. Pumps play an important role in this sector because they offer an often underestimated and also unexploited potential for improvement in terms of energy consumption and process efficiency.
The reason for this is that these hydraulic machines are not operating at the optimum, but only at partial load or overload due to pumps being incorrectly sized or conditions in the plant having changed. As a result, a huge part of the energy is wasted, leading to cost and energy inefficiency, and thus, an unnecessary waste of resources.
If we consider that the running costs for operation of these pumps, such as the cost of energy, maintenance, and repairs, amount to many times the purchase and maintenance costs over their entire service life, this waste of resources has enormous consequences.
Proper pump service These running costs can be reduced by optimizing service management in close coordination with the supplier. Around a third of these costs can be saved from the smaller coordination effort and from the reduction in repair and maintenance costs. The lion's share – which is around two-thirds – can be optimized with enhanced performance resulting from greater operating reliability and sustainability, longer plant life time, plant availability, and process quality, and improved service cycle planning.
Future-oriented, targeted, and regular pump service can achieve all of the aforementioned effects quickly and easily as well as preventing downtime, inefficiencies, and other risks. Appropriate adjustment of the pumps to the plant conditions can lead to a reduction in energy consumption. In a broader sense, this not only contributes to a considerable reduction in costs over the entire service life of a pump, but also to significantly lower CO2 emissions.
Optimum pump operations also save maintenance costs and extend the lifetime of the pumps, seals, and bearings. This can achieve a significant increase overall in plant availability and productivity.
ANDRITZ service  International technology Group ANDRITZ looks back on a century of experience in the maintenance and optimization of standard and large pumps. Today, this expertise is reflected not only in a service portfolio with innovative solutions and advanced products that can be fully tailored to the respective customer's needs, but also in specially trained staff.
The majority of ANDRITZ service employees are certified energy consultants for pumps and systems and have completed specialized training in pump hydraulics. In addition to this expert knowledge, every service employee is an all-rounder and can advise the customer throughout the entire project, starting with the plant measurement, consulting, quotation, and sale, and on to the actual service work. At ANDRITZ, we focus 100% on the customer and on direct, close cooperation with the customer in order to find the best individual solutions.
In pump service, ANDRITZ always develops the best and most economical solution for the customer. In addition to classic maintenance, the company has specialized in achieving improved efficiencies and making adjustments to deal with changed operating points at installed pumps. Considerable savings potential can be realized simply by improving the efficiency of installed pumps.
In this sector, innovative IIoT solutions from ANDRITZ have been in use worldwide for more than 15 years. After intensive tests and measurements on the plant, which are possible during operation, the savings potential is determined and also the customer-specific solutions required to achieve it. This may be partial modernization by replacing the hydraulics or even the entire pump. These individual solutions significantly reduce maintenance costs for customers.
In addition to these classic service activities, ANDRITZ also offers training and consultancy. This includes process consulting in order to determine the right pump and finish together with the customer for the specific application or material to be transported. Moreover, the portfolio includes technical consulting activities on the life cycle costs of the pump. This is not just a review of the purchase price, but also aims to optimize the maintenance costs for the entire lifetime of the machine.
Service needs expertise from small to very large Regardless of the size and number of pumps, ANDRITZ covers service of the smallest, standard pump in a pulp mill up to the largest engineered pump in an infrastructural mega-project. One of the most prestigious projects in the recent history of the ANDRITZ service team was the order to supply a storage pump to an Austrian energy supply company.
The original hydraulic machine of the ternary pumped storage set first went into operation in 1968. By the time it was decommissioned in 2016, this pump had seen 7,600 start-ups, been in operation for a total of 52,600 hours, and pumped a total of 540 m3 of water from a reservoir to a man-made lake 906 meters higher up. This corresponds to 18 times the useful content of this lake.
After nearly 40 years of service, the decision was taken to renew the pump. ANDRITZ was awarded the contract because it offered the best technical solution, providing higher efficiencies compared to competitors as well as easier pump assembly and maintenance.
A new six-stage, horizontal storage pump was delivered with significantly higher efficiency, delivery rate, and thus performance. The new pump was specially designed, developed and manufactured according to the requirements and needs of the customer.
Only materials of the highest quality were used in order to guarantee high wear resistance as well as an extremely long life time of the machine once again. An excellent combination of hydraulics and mechanics also allowed a compact design with easy pump maintenance.
Following a successful model test in the presence of the customer, trial operation with the new pump began in the autumn of 2016. Compared to its predecessor, it achieves an increase in flow rate from 2.73 m3/s to 3.32 m3/s. Likewise, the rated capacity increased from 27.2 MW to 32.29 MW and the head from 788 to 889.4 meters.
Successful development with the right service Long-term plant monitoring to maintain continuous operating reliability and performance by collecting and evaluating pump-specific data has always been an integral part of ANDRITZ's service offering. Special sensors are installed at the pump for this purpose and take measurements continuously. The data obtained is collected.
After installing the IIoT solutions, ANDRITZ trains the customer's personnel. The data can then be retrieved on a variety of devices together with the associated process analysis via online monitoring at the customer's request. At the specific request of the customer, ANDRITZ service employees can also log into this IIoT system to carry out a data analysis.
On this basis, recommendations are then made for plant and pump operations, thus the ANDRITZ service team can always provide additional support even after the actual project has been completed. In this way, the optimum process efficiency can be determined and realized in the long term with help from ANDRITZ.
For futher information on ANDRITZ pump service, please contact pump.service@andritz.com