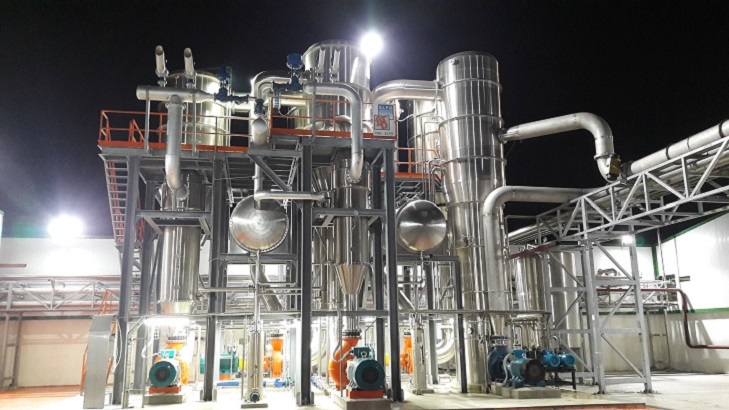 In Parma, Italy, after two years of preliminary work and numerous challenging tests, an exclusive framework agreement on the supply of orange-coloured centrifugal pumps powered by blue motors was signed between ANDRITZ and FBR-ELPO, a major producer of plants for tomato paste and fruit concentrate.
In spring 2014, Austrian-based ­technology company ANDRITZ, received its first order for centrifugal pumps for the production of tomato paste and juice concentrate. The request came from ­FBR-ELPO based in Parma, Italy. 
Reliable partner The Italian company was looking for a reliable partner with a global service network, top products as well as extensive experience in the area of the Internet of Things (IoT). It turned to Andritz, which already had 10 years of experience in IoT in 2014. Following many discussions, factory and customer visits as well as studies of theoretic data, an agreement was reached in autumn of 2014. The aim was to determine if the single–stage centrifugal pumps from Andritz's ACP series could meet the specific demands of the production process. 
These pumps would have to deal with the different varieties of the incoming raw product. Depending on weather conditions, product quality can vary and this, of course, affects its media properties. So both plants and pumps have to work under different conditions in the production process and are confronted with totally different  media behaviour and data. 
Extremely constant The technical director of FBR ELPO states: "We found that Andritz pumps behaved extremely constant in all conditions; this gives us an additional big value for our customer." FBR-ELPO customers include companies such as Coca Cola, Danone, Dohler, Heinz, Nestlè, Smuckers and Unilever. The decision was made to first test the ACP pumps in the tomato paste and juice concentrate production.
The first test pump was installed and tested in a plant in Egypt. This resulted in an exclusive framework agreement for the supply of centrifugal pumps being signed in spring 2016, paving the way for further pumps to be installed in plants in Algeria and Egypt.
The project manager of Andritz Pumps highlights the importance of this project: "With this strong partner we have gained access to a new, interesting market in order to position our top ACP pump with their capabilities in relation to the high requirements in the food sector in a targeted and effective way worldwide."
Pumps for the project in Algeria were delivered at the beginning of 2017. In the summer of the same year tomatoes passed through the custom-tailored orange Andritz pumps with blue motors for export. 
Proven experience The technical director of FBR ELPO explains the choice of Andritz products: "The fact that Andritz has such a long proven experience in heavy duty applications gave us the extra confidence to trust in Andritz products. Our evaporation plants work only as good as the circulation is, so pumps are absolutely mandatory for our plants."
With a flow rate of up to 3,000 m³/h, the pumps used do not only operate significantly above the industrial average, but all can be serviced remotely and operated by internet-of-people applications as part of an integrated, fully IoT-based application.
This enables further optimization of production efficiency, realization of the lowest energy consumption and an early recognition of faults or power decreases through the application of the IoT-based Pattern Recognition Procedures (PRP) method.
The ACP pump with fluidizer is used in tomato production in a stainless steel version in order to process a concentrate with 30° Brix and a viscosity of 400 mm²/s. The machine must withstand an average temperature of 80° C permanently at a concentrate density of at least 1,100 kg/m³.