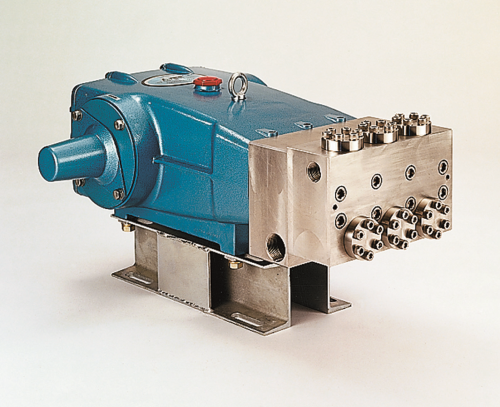 Cat Pumps has introduced a new positive displacement triplex plunger pump to meet the demands of Very High Pressure (VHP) systems. Delivering pressures up to 690 bar (10,000psi), the compact Model 6810 is a 68-frame, block style 10 K stainless steel plunger pump producing up to 38 litres/minute of consistent flow. Unlike air-driven pumps, Cat Pumps triplex PD pumps provide predictable, high flow rates largely unaffected by the delivery pressure, and at high efficiency with low pulsations
Ease of maintenance is guaranteed by the design of the wet end that can be serviced without the need to enter the crankcase. The plunger packings and low pressure seals are completely lubricated and cooled by the pumped liquid thereby greatly increasing service life even when pumping low viscosity and low lubricity fluids such as pure water or glycols.
The Model 6810 addresses the challenges posed by many applications in the oil and gas sector and elsewhere, including hydrostatic pressure testing, umbilical and control line flushing, accumulator charging, chemical injection, water jetting, high pressure washdown, surface preparation and tube cleaning.
"Since we entered the 10 K market with our 1810 pump, a number of customers have asked us also to extend our offering to cover higher flow rates," explains Brian Hubbard, General Manager at Cat Pumps UK. "The new Model 6810 more than triples our offering, whilst still using our field-proven 68 frame drive-end technology."