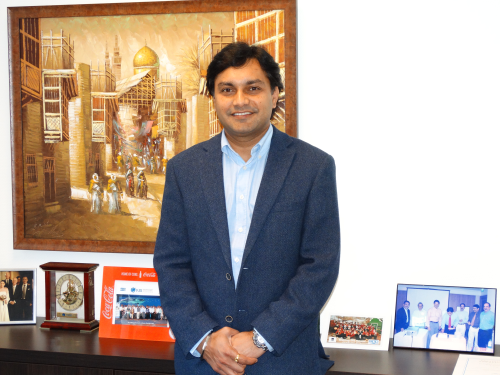 The company exports to over 70 countries.
Kirloskar Brothers Ltd (KBL) is the flagship of the Kirloskar Group. Among its achievements is the development of India's first concrete volute pump and primary sodium pump designs for 500 MW fast breeder nuclear reactor. KBL has 17 patents for technology (including two US patents), as well as numerous research papers presented at international conferences and the American Society of Mechanical Engineers (ASME).
KBL's core businesses include large infrastructure projects, such as water supply and irrigation schemes, engineered pumps, industrial pumps, agriculture and domestic pumps, valves and hydro turbines. The Group can manufacture more 75 different types of pumps with flow capacities ranging up to 120,000 m3/hr and KBL has 14 manufacturing facilities, with seven being outside India.
While KBL has long exported its pump products to Europe, it is only recently that it has set up local manufacturing facilities in The Netherlands. This, coupled with its high end manufacturing in the UK, gives the Group a firm foothold in the European region. KBL now intends to expand deeper and wider into EU markets through organic and inorganic route.
Varinder Dhoot has been managing director for 7 years.
World Pumps spoke to Varinder Dhoot of Kirloskar Pompen BV (managing director and head of European operations).
World Pumps (WP): "I thought it would be interesting to talk about Kirloskar's presence at IFAT, what is going on here. Are any future plans that you can share?"
Varinder Dhoot (VD): "When we started operations in the Netherlands in 2008, we decided that we would only high end engineered products only in the first phase. We started with this mission in the Netherlands and established our business with supplies to leading engineering companies and EPC contractors. We consciously chose the most difficult markets and customers having very stringent quality and delivery expectations.
"Our growth in the Netherlands was rapid and soon we entered Iberian Peninsula, Scandinavia and finally Germany. Today Germany is the biggest market for us and we are active in the energy, chemical applications, and oil and gas sectors. These markets will remain our focus while we are building up the organisational capabilities in continental Europe.
"We have decided that we would not go into the Eastern European market unless the financial situation gets better in that region, and we increase our manufacturing capacities in Europe. Western Europe's very stringent demands and product requirements are exciting for KBL.
Manufacturing The Group has seven manufacturing plants in India, the biggest of which is located at Kirloskarvadi. This plant is the second oldest industrial township in India and is one of the few factories to house all manufacturing facilities under one roof. Its capabilities include machining facilities, ferrous and non-ferrous foundries, an engineering center, plus one of Asia's largest hydraulic research centers, having pump testing facilities up to 5,000 kW and 50,000 m3/hr. flows.
KBL also has manufacturing plants outside India in South Africa, The Netherlands, Thailand, USA, Egypt, and the UK, so we asked about any Group plans for manufacturing expansion.
WP: "Why did you choose the Netherlands particularly for manufacturing?"
VD: "We started making pumps in the Netherlands, because the European business model is very different from the rest of the world. Consumers/ end users expect quick supplies and services through local outfits. Customers do not wait for long periods and prefer to see the products physically before purchasing.
"Now that we are established in EU, our next step will be to manufacture products in Germany (it is the single largest market in the EU). One of the main reasons why we did not start first with manufacturing in Germany is because we are dealing with the EPC contractors and the engineering companies.
"Our high end production facility in Kirloskarvadi is very impressive and it showcases our capabilities that have been developed over a period. It is not easy to replicate this facility easily in other geographies to the required scale while remaining competitive at the same time.
"The Kirloskarvadi facility has been audited and approved by major EPC contractors, and we have successful supply records with a number of them. There is a considerable price advantage for the products coming out of our Kirloskarvadi plant in India. Some of the products are so big that we cannot manufacture them in Europe for the time being. It is definitely cost-effective to manufacture them in India."
WP: "So is the matter of obtaining Indian manufacturing acceptability a major aspect for you on the agenda?"
VD: "Our ultimate objective is to manufacture and assemble our products in Europe. Now that we have been present in Europe for a while, local manufacturing is a natural progression for us. The products that we currently supply in EU are fully compliant with EU regulations and the Machinery Directive.
"We'll start manufacturing in Germany, but initially with smaller sized 'water norm' and 'chemical norm' pumps, which would be followed by engineered pumps and packaging of API products."
WP: "You talk about manufacturing, but are you actually creating it from the base up, or just putting things together, as in assembly work?"
VD: "Right now we are doing assembly, and packaging the next step would be complete machining, assembly and production in Europe."
To enhance it's expanding operations and service to its customers, KBL has recently opened a new test facility.
Market acquisitions and drivers
WP: "You were talking about the chemical, oil & gas and power sectors as being your main focus. From your perspective, what is happening in these markets that is driving your products?"
VD: "We believe that modern day customers are smart and they look for a good product, good service safety and a company with good track record/ history, i.e. technology that is contemporary and equal to the manufacturers in Europe at competitive prices. Because of constant price pressure from buyers, KBL is able to compete better, due to its manufacturing plants being in a low cost manufacturing country (LCC)."
WP: "What's your strategy for dealing with this price pressure?"
VD: "India being a LCC, coupled with KBL's infrastructure developed over last eight decades for these high-end products, enables us to deliver at very competitive prices. This also makes KBL an important player in the market. We are always looking for acquisition of technologies that would reduce costs and improved product finish – such as the use of Replicast for castings. At present, our price levels are highly competitive."
WP: "What would be a typical profile of a company you'd be looking for, that you could see would add to that value?
VD: "Europe is the hub of innovation and there are a number of small sized, very niche companies that operate in specific market segments. We are looking at acquiring those niche manufacturers that can give us the technologies that will strengthen our core business. At the same time, these niche manufacturers are typically not enormous in size and hence are easier to manage."
WP: "Is Kirloskar looking to become more like a solutions provider, where you can also serve pump motors, variable speed drives, etc? Or do you see Kirloskar as really just manufacturing and assembling pumps?"
VD: "Our vision is to be amongst leading pump manufacturing companies in the world. We are already a leading player in India, not only as a pump supplier, but also as a complete solution provider. We offer our expertise in the water, wastewater, industry, energy and irrigation sectors by offering end-to-end engineering solutions, along with electromechanical works.
"So we are already involved in such work in India, but in Europe we intend to remain a pump supplier only, for the time being at least."
WP: "For the time being - so that could change?"
VD: "It could change as the time goes by, but the immediate plan is to be very strong player in the supply of engineered pumps and services."
WP: "How about motor manufacturing, is that completely different?"
VD: "Yes, we do manufacture electric motors up to 150 hp."
WP: "So making motors is not core business?"
WP: "Can you tell me anything about some of the drivers that are pushing the development across the pumps, say, for in the power generation industry – what are your customers wanting? When they come to you? What solutions are they looking for?"
VD: "We manufacture concrete volute pumps, condensate extraction pumps, and medium sized boiler feed water pumps for the energy sector. These are relatively large-sized pumps and there are only a few manufacturers capable of making such products in the world.
"So essentially, the drivers are high efficiency, competitive pricing, quick deliveries, detailed engineering capabilities and documentation. My organisation also offers CFD and physical model studies as added value to its customers at very competitive prices."
A focus on service
WP: "Does Kirlsokar also have a big interest in certain after-sales service support?"
VD: "Absolutely! It is no longer a choice but a market necessity and hence our focus. KBL has two companies in the European region i.e., SPP Pumps Ltd., UK and Kirloskar Pompen BV, Holland.
"SPP has a very mature and profitable service and spare parts network in UK, but Kirloskar Pompen is outsourcing its service for the moment. It is in our plan to have our own service centres across the different geographies."
WP: "So are there plans for SPP to become a major service provider in Europe?"
VD: "It already is. SPP has three service centres in the UK. We have plans to spread this expertise and business model across other countries in continental Europe."
WP: "And is SPP also big in the oil and gas pump sector?"
VD: "Yes, SPP is a major supplier in oil and gas sector to major EPC contracts across the globe."
WP: "So is that an aspect of your business that's going to be a separate part, or is that going to be grown? How do you see the future of SPP?"
VD: "SPP Pumps is a 100% subsidiary of KBL, but is also an independent niche product manufacturer with a very high focus on fire fighting, oil & gas, desalination and dewatering applications.
"The company is involved in a number of projects in the Middle East, the USA, the Far East and Europe. I believe SPP will continue to maintain its global leadership in the fire fighting - oil & gas sector, while entering into new domains. SPP is already investing in additional manufacturing capabilities in the UK. It has also invested in US and Egyptian manufacturing facilities in 2013/14."
WP: "So do you see the service side as being a slightly separate part of SPP's business?"
VD: "As I said earlier, service is no longer a choice but a market requirement. So service for KBL Group will be most likely integrated eventually. SPP sells fire pumpsets in continental Europe and Kirloskar Pompen sells engineered pumps, so a synergized service between Kirloskar and SPP makes better business sense."
WP: "Looking at the chemical industry sector, what are the drivers there? We talk about high efficiency and quick delivery – do you see similar factors for the chemicals segment too?"
VD: "There is one more very important factor in the chemical industry, i.e. safety. Safety is of the utmost importance because we are dealing with hazardous fluids, and hence product reliability and safety is crucial. CE/ ATEX/ UL/ FM/ API are some of the mandatory requirements - and KBL Group is able to offer all of these."
WP: "So, how are you going about improving your products' reliability and safety?"
VD: "We are following the European machinery and safety norms. We have a successful track record with some of the prominent chemical companies in Europe. In addition, we are acquiring technology for Magdrive, thermic fluids and canned motor pumps. We have a dedicated R & D programme in Pune and Kirloskarvadi, wherein about 120 R & D engineers are engaged in product improvement projects and the absorption of new technologies."
WP: "Magnetic grade pumps - is that something new for Kirloskar?
VD: "Yes, it is a completely new product programme that will be introduced by us very soon."
WP: "Does Kirloskar do much business in the United States? And if so, do you find you have to follow a whole different set of norms, to comply with US requirements?
VD: "Yes. SPP pumps Ltd., UK, has a fully owned subsidiary in the USA called SPP Inc. This company is a major player in fire, power, HVAC and oil & gas applications there. As regards standards, the USA is different in many aspects, although the safety regulations are similar. SPP Inc is a very successful company and one of the best performing assets of the KBL group."
And the future?
WP: "Just a final question - in the years ahead, what sort of things could we be looking to see with the company? What sort of announcements might we be seeing?"
VD: "We are working on vision 2020 along with a leading consulting group. Future business blue print is being cast for the coming years.
"Product development and improvement is a constant focus and process at KBL. You will also see us getting more involved in the sectors that I mentioned earlier. And you'll see us offering significantly higher levels of pre- and post-sales services to our key accounts into the European market.
"We introduced API pumps in Europe last year and in near future you will definitely see us competing actively in Germany, Spain and Russia for API products."