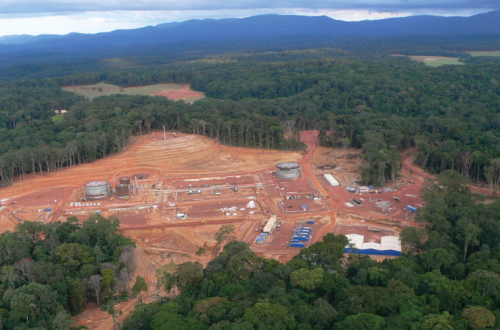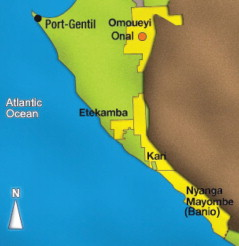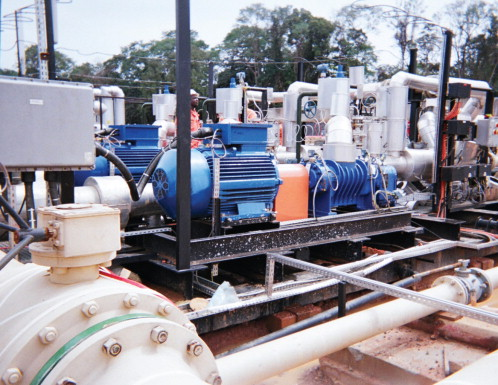 French oil company Maurel et Prom needed to install a new series of pumps capable of transporting viscous oil from one of its oil-field production plants to a refinery more than 145 km away (Figure 1). Normally that would be enough of a challenge, but in this case the distance between the field and the refinery covered some of the harshest landscapes in all of Africa. 
Remote oil fields 
Colfax Corporation, which specializes in critical fluid-handling products and technologies, responded, with a portfolio of pump technologies that delivered the reliability and durability required for operation in some of the most remote oil fields in the world, and provided the company with a complete engineered system of two-screw and progressing cavity pumps operating in series. 
Acting as pipe accelerators, the screw pumps move up to 30,000 barrels of crude oil every day and can clean the pipeline with water. The progressing cavity pumps, meanwhile, support five warming stations in the pipeline, keeping the unusually viscous oil of the region flowing freely. 
Maurel et Prom selected Colfax pumps to move crude oil through the 145 km pipeline connecting its oil-field production plant in Onal (Figure 2) to Coucal, near its refinery in Port-Gentil in Gabon, along the western coast of Africa. But the decision, according to Maurel et Prom officials, was based on more than pump reliability and durability; it was the collaborative approach Colfax offered that actually sealed the solution. 
"We offered Maurel et Prom deep application expertise and technical support in crude oil applications every step of the way," said Daniel Joslin, managing director of Colfax Imo Pompes, located in Tours, France. "It was exactly the kind of across-the-board support the company needed to further its pipeline expansion in western Africa. For example, we conducted special performance tests with oil and water to match our pump technologies with the unique crude oil condition of the region, we offered complete engineering assistance, and we pinpointed the proper pumping technology for this specific application." 
Originally Maurel et Prom approached Colfax about supplying progressive cavity pumps for oil-warming stations and transporting oil to cleaning systems. The oil company believed that all the pipeline's long-distance oil-transfer pumps should be piston-driven. But after a series of consultations, Colfax recommended screw pumps as the better option. Colfax engineers demonstrated to Maurel et Prom officials that rotary positive displacement screw pump technology would be 50% less expensive to buy and operate for transporting viscous crude oil from the production field. 
As part of its approach, Colfax provided support for the pumping process, offering insight and information on speed regulations and startup processes. Colfax also met the requirements of the customer to enable the pumps to integrate seamlessly into the pipeline construction itself including with all diameter, drain, by-pass and safety specifications provided. 
The Gabon order for Maurel et Prom included Colfax's Allweiler and Warren pumps. Specifically, the application consists of nine Allweiler progressing cavity pumps, six Warren two-screw pumps (Figure 3) and two Allweilear skid-mounted pump systems. The screw pumps act as pipe-acceleration pumps to move up to 30,000 barrels of crude oil every day and clean the pipeline with water at a rate of 50 m3 per hour (13,209 gallons per hour) at 50 bar. 
The progressing cavity pumps operate at low pressure to feed five warming stations along the pipeline as needed, ensuring the oil's ability to flow – a critical component in the Onal oil fields, where the crude is unusually viscous (from 30 to 1,380 centipoises). In addition, they reliably move the raw crude oil to upstream treatment systems, where it is cleansed of water, paraffin and other foreign contaminants before entering the pipeline. 
Firefighting 
The order also includes two complete skid-mounted pump systems. One system employs an Allweiler progressing cavity pump to empty a tank filled with a water-crude oil mixture. The second one provides firefighting capabilities with three Allweiler centrifugal pumps and complete automation, in accordance with French insurance industry L'Assemblée Plénière des Sociétés d'Assurance Dommage (APSAD) rules governing firefighting systems. 
Two additional Allweiler pumps are located at the opposite end of the pipeline, near the refinery that will process the crude oil. One is a centrifugal pump, for cleaning the exterior of the pipeline; the other is a progressing cavity pump, used on a skid, for cleaning the interior.