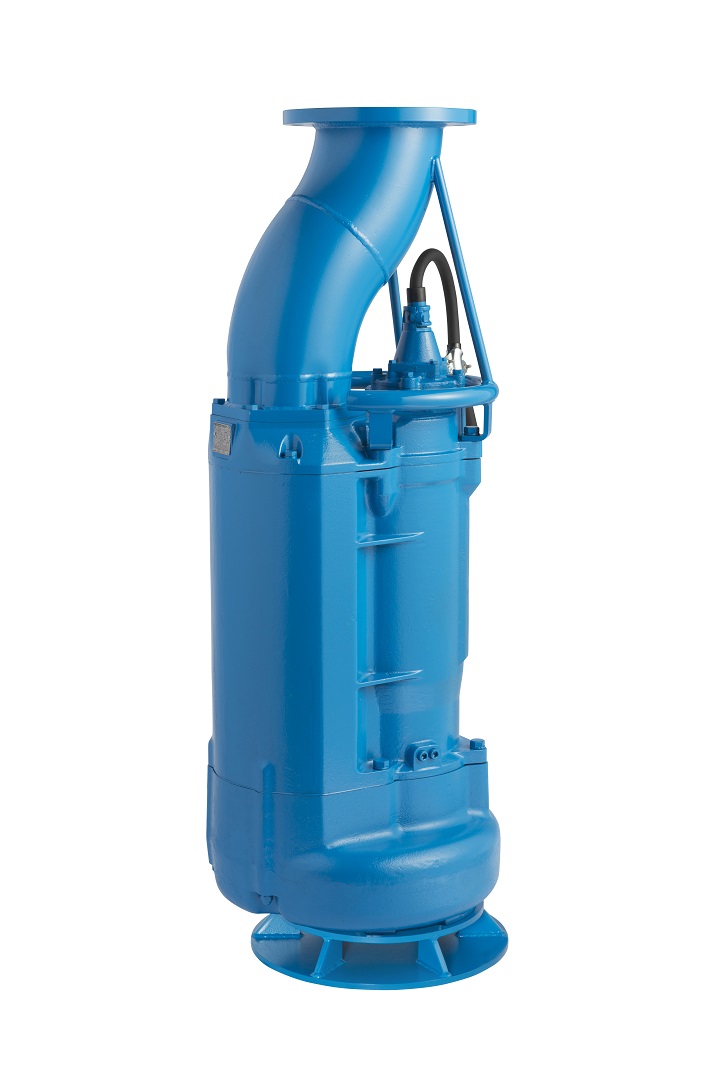 Tsurumi's submersible pumps are designed in Japan and based on Tsurumi's original design. These pumps have been developed and designed to provide durability and reliability, enabling continuous duty for long periods.
Tsurumi manufactures submersible construction dewatering pumps and wastewater pumps, and water treatment equipment. The pumps are available in various sizes; small sizes for household use, and medium to large sizes for tunnel works, large-scale construction works, mines, etc. These pumps must provide high durability and maintainability in the rental and construction markets where pumps are used in very harsh environments.
Track record The experience and track record that Tsurumi  has accumulated over the 50-plus years in harsh environments is reflected in its pumps. Tsurumi's line of submersible wastewater pumps covers small sizes for small water treatment tanks, and large sizes for pump stations where they are employed for flood control measures. These pumps are made of various materials, such as cast iron, stainless steel, special resin and titanium, to deal with the required application and relevant liquid content. Water treatment equipment from Tsurumi includes aerators, mixers, multi-disc dehydrators, rotary air blowers and bar screens, as well as products such as floating scum skimmers for collecting substances floating on water surfaces, and floating decanters for discharging supernatant liquids from tanks. With these products, Tsurumi can provide total equipment packages for handling the necessary processes for water treatment, such as aeration, agitation, scum collection, supernatant liquid discharge and sludge dehydration. Sewage bypass As a new pump for bypassing sewage between manholes in sewage piping renewal work, Tsurumi offers the KRSU822 submersible sewer bypass pump. Since sewage piping suffers from age-related deterioration and can be damaged by earthquakes, sewage piping requires repairs and replacing at regular intervals. In sewage piping repair work, consideration should be given to area residents inconvenienced by the repair work, and to work efficiency and the health and safety of workers who handle inflow sewage. Here, provisional draining that temporarily bypasses sewage via a pump is extremely effective. The KRSU822 submersible pump features a maximum head of 26.5 m, a maximum capacity of 5.7 m3/min, and a compact space-saving design of just 546 mm in diameter. Normally, with engine pumps, it is difficult to suck up fluid from a depth of 7 m or more, but the KRSU822 pump can fit in the deep limited confines of a manhole and there play an active role in draining the manhole. In addition, with its semi-vortex structure, this pump provides a large solids passage of 56 mm in diameter, which prevents clogging of foreign matter. In fact, it is particularly effective towards preventing clogging of fibrous solids in the impeller, which is the biggest problem in draining sewage.  The stand has a bottom plate structure so that the pump can stably stand by itself even when the pump is placed on earth, sand or sludge. The KRSU822 pump has a top discharge, side flow structure that effectively cools the motor even when the pump runs with the motor exposed to air. Thus, the KRSU822 is highly suited as a bypass pump. The KRSU822 pump additionally comes standard with an anti-wicking cable, motor protector, dual inside mechanical seals with silicon carbide faces, and Oil Lifter. With features like these, Tsurumi's highly reliable and durable pump is ready for continuous duty at tough job sites. As described above, Tsurumi has been developing pumps resistant to harsh conditions of use, by making use of the experience and know-how that the company has accumulated over many years. As a result of this experience, there are many products in Tsurumi's line-up that can withstand the difficult field conditions involved in moving and draining high temperature liquids, corrosive liquids and seawater.