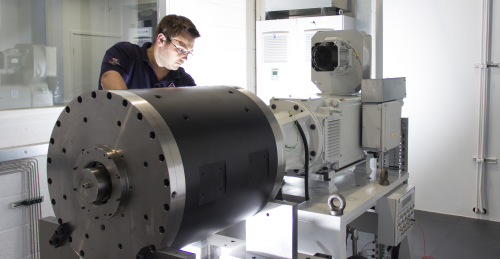 In addition to doubling the current capacity of the facility, this latest investment increases the diameter of dry gas compressor seals that Aesseal can manufacture, refurbish and dynamically test up to 380mm (14.96") shaft diameter.
Along with additional test equipment and polishing and lapping machines that can lap seal faces up to 500mm (19.685") in diameter, Aesseal has also installed lifting equipment to increase capacity to 2500kg (2.76 tonnes).
The company has previously announced a multi-million pound investment in large capacity 9-axis, state of the art machining centres which are an essential requirement for the manufacture and repair of third party dry gas compressor seals.
Aesseal Engineering Director Stephen Shaw said: "We now believe we can meet the requirements of 98% of the market for dry gas seal testing. This investment increases our capability to manufacture, test and refurbish dry gas seals from almost any compressor."
Customers are able to view the testing of their dry gas compressor seal by remote video link as an alternative to witnessing the actual test at the Aesseal Global Technology Centre in Rotherham.