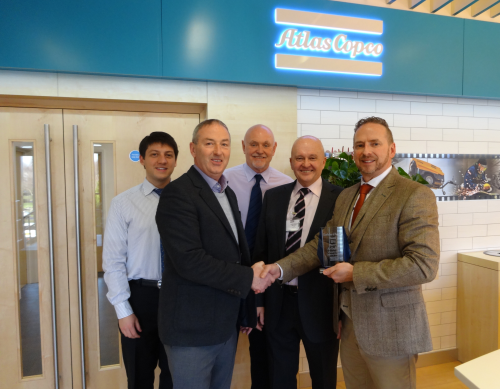 UK's Coventry-based Atlas Copco Premier Distributor Air Kraft, has won the 2016 Atlas Copco Compressors 'Distributor of the Year award'. As Air Kraft's managing director, Craig May-Russell observes: "Our primary approach to meeting the needs of customers is to provide energy-saving installations. In some cases, we've been able to help companies achieve annual reductions in compressed air power consumption of as much as £60,000." 
Craig May-Russell points out that this approach applies equally to rough vacuum pump equipment, citing reports that by replacing its original installation with an Atlas Copco GHS VSD+ vacuum system, a manufacturer of plastics thermoforming saved an estimated £70,000 per annum. 
Brexit factor
On the question of what factors made 2016 such a great year for business, Craig May-Russell feels that despite the effect of some exchange rate-led pre-Brexit price increases from suppliers, local industry was more active with new builds and factory extensions requiring pipework and new plant. What's more, cost-conscious buyers were looking at the whole picture − the total cost of ownership, starting with air audits and leak detection, before seeing the latest technology to provide the optimum solution.
Doubled sales targets
The company has doubled its sales target in the last two years and has recently expanded into adjacent premises for extra storage.
Air Kraft has been providing compressed air and fluid power solutions since 1993. Operating as an Atlas Copco Premier Distributor since 2012, the company offers the supply and installation of stationary oil-lubricated and oil-free air compressors, nitrogen generators and vacuum pumps.