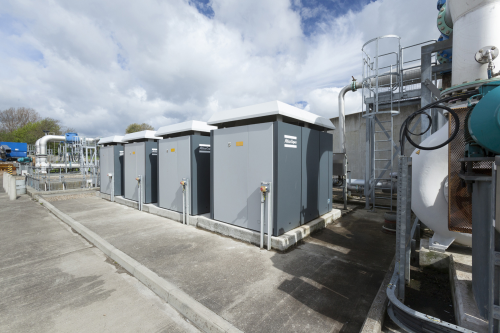 Atlas Copco Compressors will showcase its latest rotary screw blowers and compressors at Stand S10 at the Pump Centre Conference and Exhibition in Telford, UK on 30 April.
Specifically designed for water and wastewater applications, Atlas Copco will be promoting its ZS range of oil-free, rotary screw blowers and the company's GA VSD+ compressor.
On display witll be the standard ZS18 blower and a weather-proof ZS18+ variant, which is fitted with an integrated VSD frequency converter; this feature varies the speed of the motor to match changes in the blower air demand, thus consuming only the minimum amount of energy.
All Atlas Copco's ZS low pressure blowers integrate oil-free, rotary screw technology and are designed to meet water and wastewater treatment plants' stringent requirements for greater energy-efficiency and a lower carbon footprint. Atlas Copco claims that its ZS screw blower technology is on average 30% more energy efficient than the majority of conventional lobe-type, low-pressure blowers currently available on the market.
Alongside the ZS blowers, Atlas Copco's experts will also be available on Stand S10 to highlight the technical differences between modern low-pressure and traditional lobe blowers, and to discuss the critical performance measurement factors that should be taken into account when comparing the two technologies.
Visitors will also have the opportunity to enquire about how their specific water and effluent treatment needs can be met with Atlas Copco's complete portfolio of oil-free blowers and compressor solutions for wastewater treatment applications and processes.
For the first time at the Pump Centre Conference and Exhibition, Atlas Copco will also showcase a model from its GA 7-37kW VSD+ compressor range. Launched in 2013, this range was recently expanded to include models up to 37kW. GA VSD+ compressors are designed to provide energy savings of 50% on average, a 13% leap in free air delivery and a canopy less than half the size of traditional fixed speed compressors. This is made possible by Atlas Copco's own 100% patented interior permanent magnet (iPM) motors which drive, and form the heart, of all GA VSD+ compressors.
The GA 7-37 VSD+ is suitable for a range of applications in wastewater and clean water treatment plants including sand filter fluidisation, sludge tank aeration, sludge suspension, dissolved air flotation, surge vessel control, pneumatic control of valves and filter back flushing and cleaning.