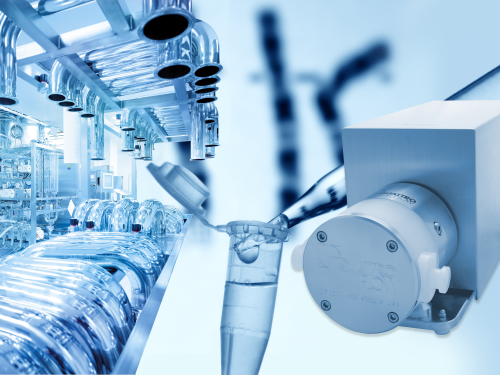 Quattroflow, the brand of positive displacement quaternary diaphragm pumps for the biopharmaceutical industry, has announced that it will display the latest offerings in its line of pumps for use in pharmaceutical and biologic-handling applications at Interphex 2014.
The show, which brings together a wide variety of leaders from the pharmaceutical industry, will be held from March 18-20 in New York City.
Quattroflow will display the latest offerings in its single-use line of four-piston diaphragm pumps for utilization in biologic-handling applications within pharmaceutical and biotech operations. The Quattroflow product line consists of five pump sizes—QF150, QF1200, QF4400, QF5050 and QF20K—with capacities between 1 and 20,000 L/hr (5,283 gph). New for 2014 are the injected molded single-use pump chambers for use in the QF1200 Series. These new pump chambers reduce waste material and lower costs, making it possible to further expand the use of Quattroflow pumps in single-use applications.  
The incorporation of Single-Use Quaternary Pumps in biologic-handling applications is gaining wider acceptance among pharmaceutical and biotech manufacturers because they can help optimise end-product speed-to-market. Also characterised as "disposable," single-use pumps feature a replaceable wetted pump chamber. The replaceable chambers reduce downtime between batches, save time and money, and are quick and easy to change. Notable is that Quattroflow pumps are also easily convertible from single use plastics to fully cleanable/sterilisable stainless heads as needed by the application.   
Quattroflow positive displacement pumps are 'ideal' for biopharmaceutical processes the company says, because they incorporate a quaternary (four-piston) diaphragm technology with no mechanical seals to provide very linear flow characteristics with high turn down capability required for critical applications.  This design helps Quattroflow pumps transfer shear-sensitive media of aqueous solutions and biological products without damage, ultimately ensuring product safety, efficiency, reliability and viability.